Skip to Content
Live the Dream, Our Impact in 2021!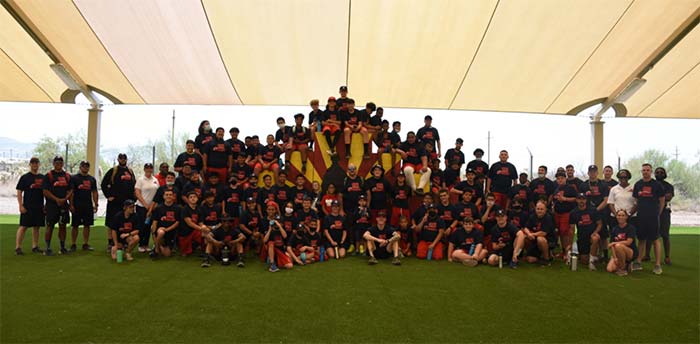 Youth Impact Programs in the Year 2021
Dear Dream Makers,
We are honored to announce that the Youth Impact Program has emerged stronger than ever in 2021 and leading the way as a positive change agent through focus, determination, and a bold demonstration of resilience. These programs have enabled our Youth to overcome the significant and unique challenges posed by the COVID-19 global pandemic and social justice issues that have cast a shadow on our society over the past 18 months, by providing a life-altering experience to prepare our youth to excel in academics during the upcoming school year and success for life.
We conducted two outstanding Youth Impact Programs this summer in Arizona and Hawaii in a strong demonstration of resiliency in the face of adversity and uncertainty.
Arizona Youth Impact Program June 14-25,2021
University of Arizona
In Arizona, we executed our first Youth Impact Program with full support and partnership with the entire community in an amazing two-week program for over 80 youth where they received a life-changing experience through a dynamic STEM-based academic curriculum from superb DOE teachers, combined with world-class leadership and character development provided by exceptional US Air Force leaders from Davis-Monthan Air Force Base, and powerful mentorship provided by over 14 student-athletes from the Arizona Wildcat football program. In addition to exposure to the phenomenal culture, facilities, and opportunities available at the University of Arizona, the event included a full tour at Davis-Monthan Tucson Air Force Base highlighting exciting STEM-based occupations of our U.S. Air Force personnel. The youth were able to check out firsthand the cutting-edge, technology-based career opportunities available. As a result, the growth and increase (from pre and post-testing) in academic results were remarkable!
Arizona YIP Academic Results:
STEM 94%
English and Language Arts 60%
Leadership 41%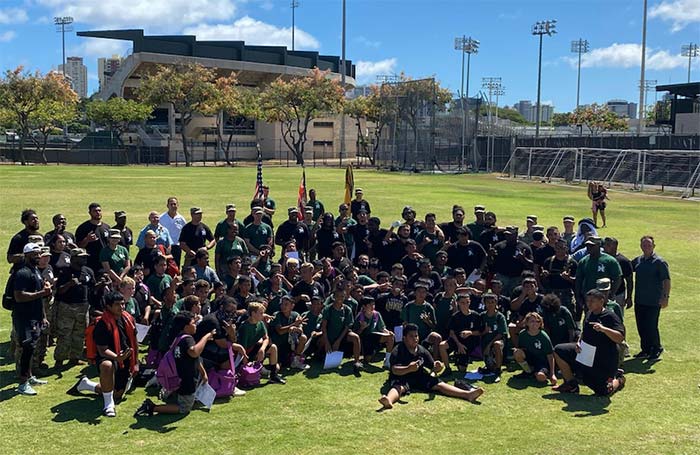 Hawaii Youth Impact Program (July 22-24)
University of Hawaii
In Hawaii, we conducted our fourth year of YIP, but this year, with the support of the Honolulu Mayor and the University of Hawaii President, Athletic Director, and Rainbow Warrior Football program, and the unbelievable generosity of donors supplying meals, transportation, backpacks, school supplies, water flasks, we set the standard with the execution of the first-ever 3-day "Mini Camp". It was a power-packed, transformational event in support of our financially challenged, at-risk youth focusing on developing positive growth and a better understanding of character and discipline for application of core values in daily life, to shape better decision-making, and to boost their academic achievement and level of success.
The event was charged with a synergistic combination of STEM activities, life skills, character and leadership development, and athletic competitions provided by 35 'Winners', a set of mentors consisting of US Army and Marine leaders, 13 Student-Athletes from the Rainbow Warrior Football program, and dynamic DOE teachers who actively engaged with the youth to provide an unforgettable experience in preparation for high achievement during the upcoming school year!
This resulted in a significant increase in knowledge and application of leadership fundamentals by over 35% in just three days!
In addition, we introduced the Dream Card, a tool to inspire and capture the dreams of each youth, enhanced by the YIP Ethos and seven YIP Values, which were signed by the mentors and fellow campers as a source of inspiration and symbol of their shared experience and commitment to Dream Big! Achieve Big!
Check out the highlights from our 2021 Hawaii Youth Impact Program "Mini-Camp"
The YIP mission has never been more required to enable social change.
We are a national program with a sacred mission to provide life-changing impacts on our Youth and produce the next generation of leaders, we associate with leaders to lead. We lead by action as we recently made a formal commitment to the future of the Youth Impact Program with the hire of a new National Director to lead the way in our growth and expansion and to increase our capacity to impact greater numbers of youth at a time never more important for our Nation's future.
Dream Big! Live the Dream!
Permanently Impacting Our Nation's At-Risk, Inner-City Youth