Skip to Content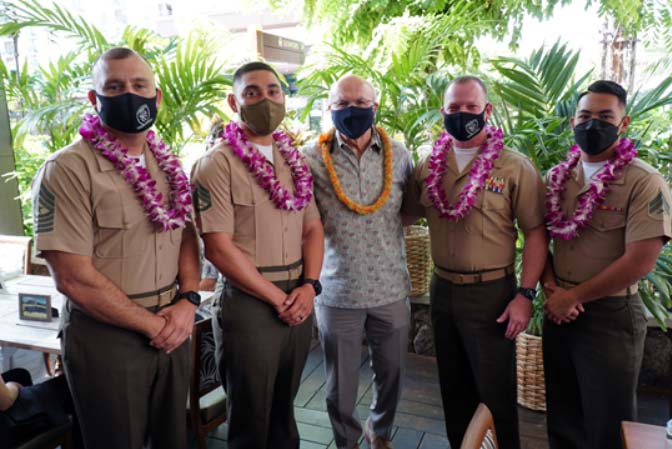 These Dream Makers who all have Dreamed Big and Lived their Dream are Giving the Dream Back together with a Shared purpose, galvanizing an amazing group of Leaders. We brought these Leaders together in Honolulu for a "Mahalo Nui' Luncheon at an immaculate setting at Roy Yamaguchi's Eating House 1849 in Waikiki.
The spirit of the Luncheon event exuded Mana and echoed the level of sincere gratitude and thanks to supporters of the Hawaii YIP following achievement of the huge success of the fourth year, but first-ever YIP 'Mini-Camp' held in July, hosted by the University of Hawaii.
To make this happen, we are truly thankful for the full support of strong leadership and support of the Honolulu Mayor Rick Blangiardi, Hawaii State Senate President Ron Kuichi, University of Hawaii President David Lassner, Athletic Director David Matlin, Rainbow Warrior Football Head Coach Todd Graham, Director of Football Operations, Landon Keopple and Grad Assistant Koa Kaai, combined with the generosity of numerous donors to include transportation, backpacks, school supplies, water flasks, uniforms, and a world-class program on the serene campus of the University of Hawaii to provide life-altering Inspiration for our financially challenged, at-risk youth.
"I was proud to speak at a luncheon held to thank supporters of the Honolulu Youth Impact Program, which has helped our at-risk youth to overcome unprecedented challenges posed by a global pandemic and social injustice, helping them to become our next generation of leaders. This is what TRUE teamwork looks like!" – Honolulu Mayor, Rick Blangiardi
https://www.facebook.com/MayorRickBlangiardi/posts/285541336904895
The YIP Mini-Camp consists of a three-pronged, transformational program, centered on dynamic STEM-based academic curriculum, life skills, leadership and character development, and athletic competitions provided by 'Winners', a team of 35 Mentors consisting of passionate educators, (Academic Director Joe Lileikis, Niu Valley Middle School), along with Director of Operations (Darien Mitchell, Hawaii Youth Challenge Academy), and outstanding military professionals consisting of US Army leaders from the University of Hawaii Army ROTC Warrior Battalion (LTC Melander, SFC Hendrix), and US Army Pacific's 8th Theater Sustainment Command and Marine Corps Hawaii from Combat Logistics Battalion 3 (Ltc Gregory, SgtMaj Lopez) teamed up with 13 Student-Athletes from the Rainbow Warrior Football program to form a Mentor 'Team of Teams' to enthusiastically engage with our Youth.
University of Hawaii Army ROTC Warrior Battalion
2LT Embry, CDT Dixon, CDT Carey, CDT Perez-Soto, CDT Betencourt, CDT Sieu, CDT Oya, CDT Tafao, CDT Asher, CDT Lewis
US Army Pacific – 8th Theater Sustainment Command
SFC Kennerly, SFC Jankow, SFC Weaver-Bowen, SFC Edwards, CPL Tebalan, SSG Camennino, CPL Ellis, SPC Galisteo, SPC Hornung, PFC Modiselle
Marine Corps Hawaii – Combat Logistics Battalion 3
SSgt Ruiz, Sgt Clemmons, Cpl Micua, Cpl Porter, LS2 Ajagbe
Student-Athlete Football Players
Khoury Bethley, Arnold Azzuna, Dedrick Parson, O'Tay Baker, Zach McKinney, Jonah Kahahawai-Welch, Justus Tavai, Micah Vanterpool, Kohl Levao, Solo Vaipulu, Gene Pryor, Armani Edden, Eugene Ford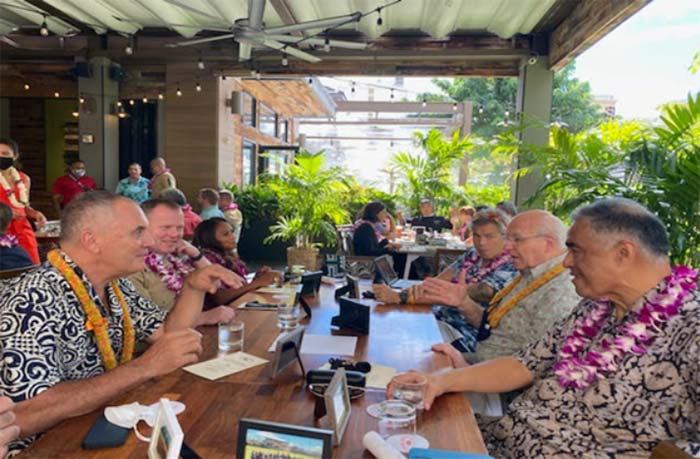 Riki Ellison, YIP Founder and CEO (left) discusses YIP with Honolulu Mayor Rick Blangiardi (right middle) and former Mayor Mufi Hanneman, Hawaii Lodging and Tourism Association (right)
A pure moment came through the testimony of YIP's impacts on youth as presented by Lena Conrad, a social worker, and leader of Waipahu Marauders Youth Program who utilizes the YIP to reach the most disadvantaged at-risk youth, the homeless in the most challenged communities, at the most challenging times of COVID. Lena who has sent over 50 youth to YIP since 2017 provided the following:
"The Waipahu Marauders Youth Program was born out of the Lighthouse Outreach Center Homeless Shelter. Established in 2012 to provide academic and enrichment activities to homeless and poverty-stricken youth. We use football as a vehicle to teach academics, life lessons, and provide resources to social services. Our organization began sending kids to the University of Hawaii Youth Impact Program (YIP) in 2017. Our first-year goal was to instill a dream and have our students see beyond the hardship of their daily lives. The YIP program opened the possibility to attend college and with the mentors' stories created a pathway for our students to follow. I'm glad the YIP has recognized one of our very own students – Skyden Hanisi. His trials and tribulations are a reflection of what our kids struggle with every day in their lives. Truly, YIP is pivotal in transforming his life and other kids in our program for the better." – Lena Conrad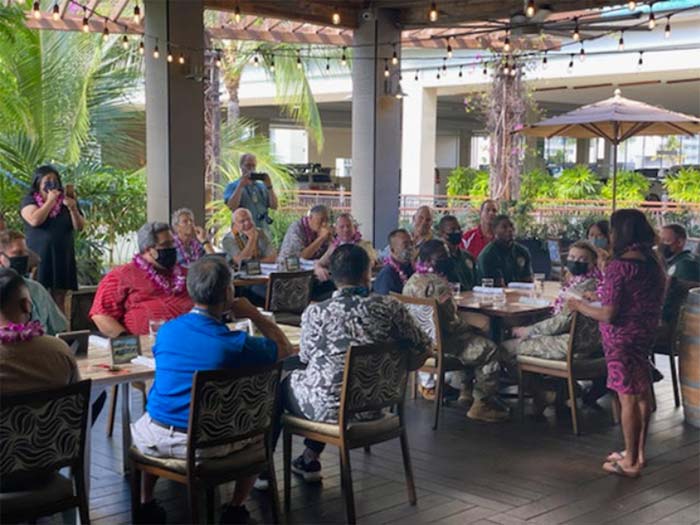 Lena Conrad, social worker, Waipahu Marauders who sent over 50 youth to Hawaii YIP delivering messages of thanks.
We give Mahalo and much Aloha to our Dream Makers and Dream Givers!
Donors:
First Hawaiian Bank: Robert Harrison, Cameron Nekota, Sharon Brown
Alexander & Baldwin: Dana Gusman
The Mills group: Bill Mills
Roberts Hawaii: Roy Pfund
Haim's Enterprise, Keoki's Laulau and Diamond Head Seafood: Mike Irish
Hawaii Lodging and Tourism Association: Mufi Hannemann
Island insurance Companies: Nolan Kawano
Marcus Mariota Foundation: Ed Nishioka
Office Depot: Scott Takeya
Eating House 1849 by Roy Yamaguchi
Pancakes & Waffles: Juli Sung
Sodexo: Regina Toguchi
Dukes: Chef Matt Young
Tiki's: Bill Tobin
Hawaii YIP Team: Sharon Brown, Roy Yamaguchi, Anthony Spadaro
National Director: Trey Johnson
"One of the most powerful things in life is seeing a child dream…about the things they want to do and be…it is giving them more than hope, it is giving them reality…'' – Riki Ellison, Founder, and CEO, YIP
MAHALO NUI TO OUR DREAM MAKERS
Permanently Impacting Our Nation's At-Risk, Inner-City Youth