Skip to Content
Join us for Draft Night of the University of Michigan Youth Impact Program!
There will be presentations by Michigan Football staff and current student-athletes, Detroit community leaders, US Marines, and Riki Ellison, YIP Founder & Three-time Superbowl champion. These will be followed by the official draft of 2016 YIP participants.
Monday, May 23 – Program begins promptly at 6:00 p.m.
Cass Tech High School | 2501 2nd Avenue, Detroit, MI 48201
Jeannette Wheatley Grand Auditorium – North Entrance (2nd level)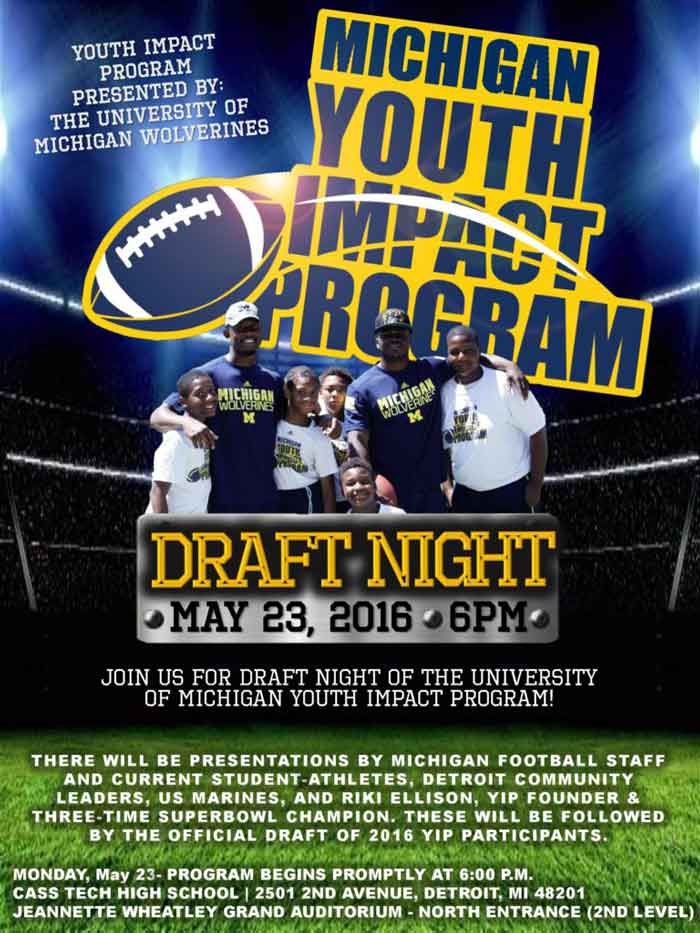 The University of Michigan Youth Impact Program will be held July 11-22. In addition to the two-week program, there will be touchpoints for the youth during the year.
The football program identified young men in Detroit not only because of its proximity to the institution but because of the significant need that exists there combined with the passion of the football leadership to serve this cause.

Permanently Impacting Our Nation's At-Risk, Inner-City Youth