Skip to Content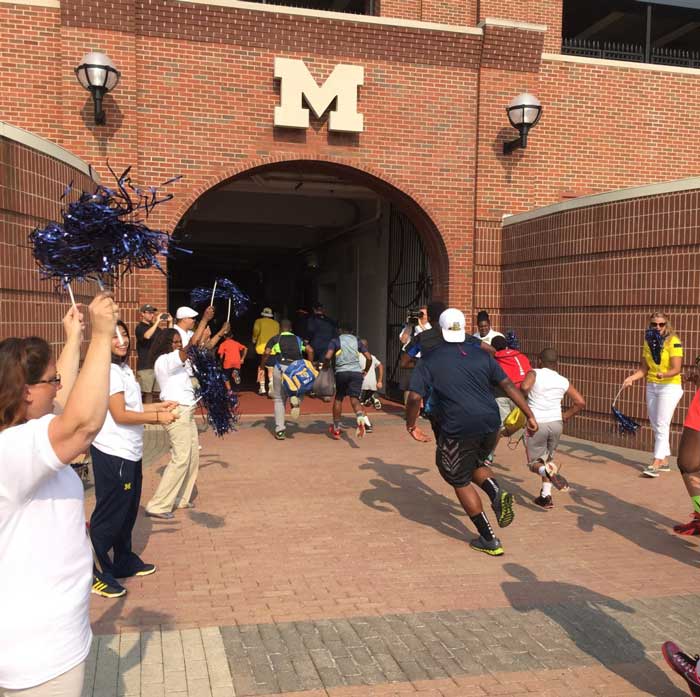 Spring is here and the buds are turning into blossoms as are the buds of our Youth Impact Programs for 2016 are opening. We are extremely excited to implement our programs, going to the Draft Nights with the families, the young participants, the Student-Athletes, Coaches, and staff from some of our nation's most prestigious academic Universities, the Marines, and most of all the programming that will impact and change life trajectories in July at these outstanding University campuses in these same communities.
In the drive to make a significant and lasting impact upon our youth, we are proud to announce to you the engagement of the University of Michigan's School of Social Work as they have assigned three Graduate Students to support a year-round monitoring and engagement program for the Michigan Youth Impact Program. This will serve as a trailblazer and model for our other YIP programs to implement year-round programming to sustain and grow our impact upon the participating youth. During these past months, we also have had the privilege and honor to better enhance our programs in meetings with Princeton University and their world-renown experts who study, measure, program, and research inner-city at-risk youth education and impact.
We now present to you and are honored to have four programs this year, however, due to the national importance of West Point hosting the Wounded Warrior Games this summer for our heroic veterans, we will be postponing the West Point Youth Impact Program to 2017, but keeping our youth West Point YIP alumni in the Bronx and Harlem engaged. We present the three remaining programs for 2106; Northwestern University, the University of Michigan, and the University of California, Berkeley. We will be in some of the toughest, most challenging inner cities of our nation: Chicago, Detroit, and Oakland to make a positive impact on at-risk youth, help establish trust and relationships within their communities, provide access and opportunities between the academic institutions and the youth within the inner-cities and most of all create, enhance and develop leadership for everyone involved with the program.
At the apex of impact in our programs, it will always be about gaining confidence, courage, trust, and support to make the right decisions for the right reasons at the right time under stress.
Join us in Dreaming Big and Being Big in 2016 in making Dreams and real impact happen!
We rely solely on the contributions from our dream makers and friends and would be honored to have your support for all of our 2016 programs by making a tax-deductible contribution to the Youth Impact Program.
Permanently Impacting Our Nation's At-Risk, Inner-City Youth