Skip to Content
Go Big, Go Blue and Go to Ford Field in Detroit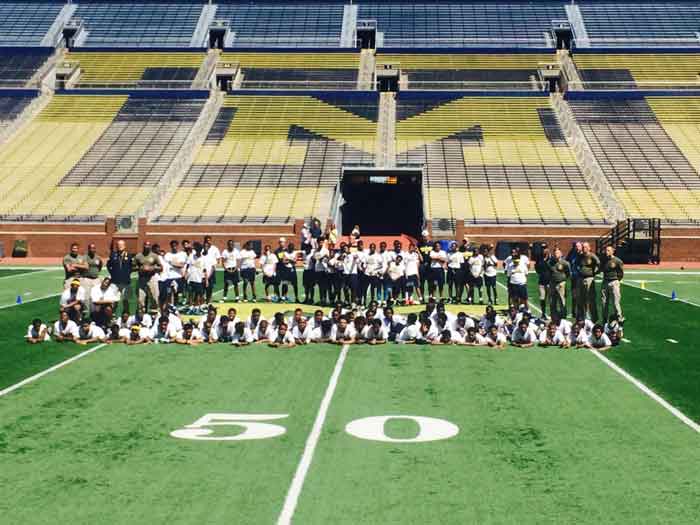 We are pumped up big time with the forward-leading, championship-developing University of Michigan Football Program led by Head Coach Jim Harbaugh. He will lead the University of Michigan's Youth Impact Program participants into Detroit City on Saturday to Ford Field, home of the Detroit Lions. Coach Harbaugh will bring his football team which includes YIP student-athlete mentors from 2015 and the upcoming 2016 program with the YIPsters that participated in last year's program spring football practice this Saturday.
Below is the invitation from the Michigan Athletics Football program for our YIP participants, friends, and supporters to watch and enjoy a Michigan spring football practice at Ford Field in Detroit. We would encourage you to sign up and attend to see the bond, the trust, the friendship, and the leadership displayed by our YIPsters from Detroit and their amazing student mentors of the University of Michigan Football Team.
This real sustainable impact that our program provides is changing the trajectory of young lives in Detroit and in Ann Arbor is about real trust and relationships of mutual respect between the mentors, participants, the University of Michigan, and Detroit.
Go Big, Go Blue and Go to Ford Field on Saturday to watch your program!
A limited number of tickets are available for this practice; each individual may request up to two (2) digital tickets. Please redeem quickly as this rare practice opportunity may be extended to the general public later in the week depending upon availability.

Parking: Available in the Ford Field parking deck and surface lots for $6
Gates/Open Time: Gates A and G will open at 11:30 a.m.
Seating: There will be a special seating area for participants in the Youth Impact Program
Concessions: A limited number will be available on the first level (Adams St. concourse area)
Permanently Impacting Our Nation's At-Risk, Inner-City Youth