Skip to Content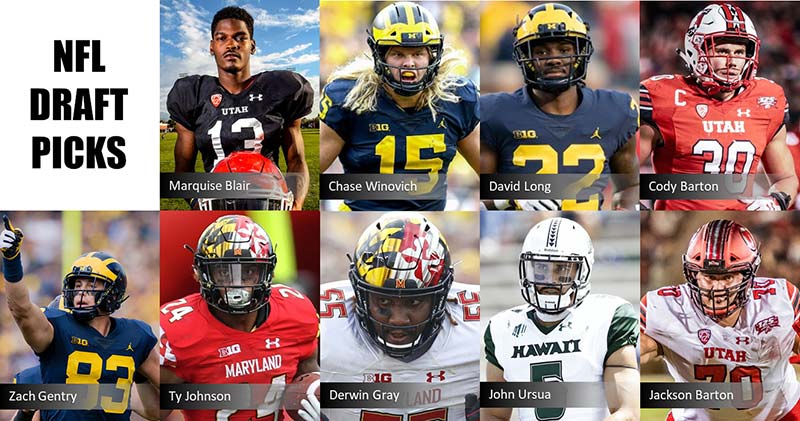 Dear Dream Makers and Friends,
Along with the 3 NFL 2019, first-round picks Devin Bush Jr., Rashan Gary, and Darnell Savage, Jr., we give a lot of love, respect, great appreciation, and admiration to these YIP Student Athlete mentor dream makers that got drafted in the NFL over the weekend:
Pick #47 Marquise Blair (S) – Utah -> Seattle Seahawks
Pick #77 Chase Winovich (DE) – Michigan -> New England Patriots
Pick #79 David Long (CB) – Michigan -> Los Angeles Rams
Pick #88 Cody Barton(OLB) – Utah -> Seattle Seahawks
Pick #141 Zach Gentry (TE) – Michigan -> Pittsburgh Steelers
Pick #186 Ty Johnson (RG) – Maryland -> Detroit Lions
Pick #219 Derwin Gray (OG) – Maryland -> Pittsburgh Steelers
Pick #236 John Ursua (WR) – Hawaii -> Seattle Seahawks
Pick #240 Jackson Barton(OT) – Utah -> Indianapolis Colts
All of these 12 YIP leaders of character invoke trust, respect, and endearment for our young at-risk youth. They leave a piece of themselves, their dreams, their attitudes, their disciplines, and their grit with the YIP participating boys. Their accomplishments, their dreams come true are validated. The Student-Athletes and the YIP at-risk youth participants are from similar communities, similar challenges, and became one brotherhood in their collective effort to make an impact on each other and in the communities that they share together. They are all a part of us. They are all now part of the new communities that they will impact.
Compelling to our dream making, we have three graduated YIP boys that earlier in this month have received full student athletic scholarships from their hosting YIP Universities. They too are remarkable leaders as those that have followed that have made their dreams come true.
It just keeps coming – Dreamer Maker's associate with Dream Makers to make dreams come true!
We are associating with you to make Dreams Come True! You're associating with us to make Dreams Come True!
We are DREAM MAKERS! Living the Dream!
Permanently Impacting Our Nation's At-Risk, Inner-City Youth