Skip to Content
YIP Northwestern Football Season Opener
College football is ON! At Evanston, Illinois. The Wildcat Season kicks off with an ESPN televised showdown, with our Purple Big Cat Northwestern Dream Makers under Head Coach Pat Fitzgerald. The Wildcats kick off their campaign on ESPN at 11 a.m Chicago time facing the "Farm" a tough Pac-12 opponent, the Stanford Cardinals. This team is pumped up to play hard, with high energy!
We are extremely proud to be part of Northwestern football and excited about our 25 Northwestern Youth Impact Program Mentors for our outstanding program this summer. In Purple and White today: #2 Traveon Henry Safety, #16 Godwin Igwebuike Safety, #18 Anthony Walker Linebacker, #27 Matt Harris Cornerback will start on the defensive side of the ball and #19 Cameron Dickerson Wide Receiver, #21 Justin Jackson Running Back, and #69 Brad North at Center will start on the Wildcat offense. Here is the roster of all of our 2015 YIP Northwestern players for your reference for the game today:
Your support of our program at Northwestern this summer has helped develop leadership within these 25 Northwestern Wildcats that you will see displayed on the field today.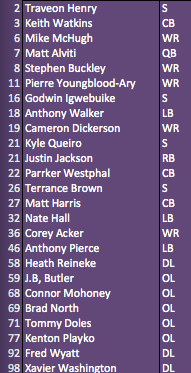 We thank you for making dreams come true and for your support of YIP!
Go CATS!
Respectfully,
Riki
Permanently Impacting Our Nation's At-Risk, Inner-City Youth