Skip to Content
WILDCAT DREAM MAKERS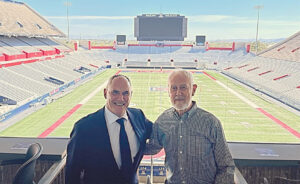 Riki Ellison and Dennis Gray 
Dear Dreamers and Dream Makers,
We had an exceptional few days in the Home State of Arizona! BIG TIME
We are full bought in! We are full YIP! We are full TUCSON!
On April 13, the Tucson spring desert came alive on a spectacular, radiant evening during a gathering of Dream Makers in the alluring Arizona Wildcat Stadium.
The purpose of the event was a celebration to kickoff the 2022 Arizona Youth Impact Program at an immaculate reception for major program supporters and organizers at the beautiful Sands Club.
The 2022 Arizona YIP will kick-off at Arizona Stadium on June 13 for a life altering 10-day camp experience for over 100 disadvantaged 'at-risk' male youth from Greater Tucson concluding on June 24.
Leading with the President of the University of Arizona Robert Robbins in our Kickoff reception that was an abundance of support for our mission and receptivity of his leadership to our vision. That vision was the unification of the University around YIP – with full capacity across the University in sports engagements to include the women athletics, and dean engagements to include Education and Engineering. He is all IN!
Leading with the Athletic Director of University of Arizona, Dave Heeke, who demonstrated his leadership and total commitment to YIP. He was with us from the get go! Four years before, now we found the perfect fit with us with his new Coach Jed. We had some of major supporters at our event – he spoke from the heart and BELIEVES in us.
Leading with the Head Coach Football Coach Jedd Fisch of Arizona who spoke from the heart on how important this program is to him personally and his history with Michigan and watching Jim Harbaugh take this program in his first year as his QB Coach. Jed spoke to us on the program's importance to his player development and committed his sophomore best class to us. He has full resources and support behind our program.
Leading with Syndric 'Step' Steptoe our Arizona YIP program director, former UofA Wildcat and was with me and the Athletic Director years before at the beginning. He is the program, his culture, his style, his energy, his focus and his love of the program coupled with his wife who is a middle school teacher and one of our YIP teachers. He presented our program like no other program director. He went deep. He went with breadth. He went with compassion, and he went with leadership of credibility.
Leading with Craig Barker, our Teammate all the way back to Amphi High School and works for the Arizona Foundation who has brought forward supporters to back our program in groves and in quality. Craig led by impromptu off the cuff as he took the MC role and introduced the speakers with flow and credibility.
Leading with Heather Volpe our YIP Board Champion for the Arizona YIP as she is our overseer of this program in Tucson. She is in love with the program and the young men she watches transform during our program. She is there to fine tune, to work our recruitment of at risk youth from the Amphitheater District. To be the hostess with the mostest and provide the key support over top for our funding and operations of our program.
Leading with USAF Chief Dana Council of Davis Monthan who has 20 Airmen with a mixture of experience from last year with new Airmen and a new command team all in with Step and the Arizona YIP. Opening up his base and developing his Airmen, developing the Military partnership with the University of Arizona.
Leading with Tay Fitzgearld the head of Raytheon Arizona who is committed to being alongside in support of this great program.
Leading with our Unified School Districts of Tucson and Amphitheater with Principles with ADs with Teachers Jon Lanas and David Humphreys as they see the difference makers and reality of social change.
Leading with the Tucson Conquistadors who are doubling their support for our program as if fits perfectly with their community goals.
Leading with my High School Teammates from Amphitheater High School as they give back to their beginnings and their roots of inspiration.
Leading with Jon Volpe the pillar of strength and fortitude behind this program getting done.
Leading with Dennis Gray with the dignity and grace of gentle wisdom and thought who has been in Arizona since 1969.
Leading with our funders and supporters who are believe in this program and have caught the fervor of winning and winners surrounding our program. It is tremendous and it is amazing.
Leading to Win as We have created a caldron of excellence inclusive and exclusive to WINNERS Believers and Dream Doers that's on FIRE, flaming the best of the best dreamers in giving their dreams to show the LIGHT bring the Light, increase the Light and make that Light enduring for the uplift and betterment of the Tucson Community.
Arizona YIP is our Love
Relentless Dreamer
BE A WILDCAT DREAM MAKER!
BEAR DOWN!
To learn more about the 2022 Arizona Youth Impact Program and how you can help, please log onto: Donate | Youth Impact Program
Permanently Impacting Our Nation's At-Risk, Inner-City Youth