Skip to Content
2022 Arizona 'Kick-Off' Social
Dear Dreamers and Dream Makers,
We invite you to give the Dream with our 2022 Arizona Youth Impact Program 'Kickoff' Social on April 13 @ 5:00 pm at The Sands Club in the Arizona Wildcat Stadium!
We celebrate the Dream come true in 2021 to give the Dream in 2022 following the amazing success achieved in 2021 during the inaugural Youth Impact Program hosted by the University of Arizona Wildcats and DM?!
We want to go big to bring it with more impact and more participation and make it better in 2022!
We are grateful for your help to make this next dream a reality, ignited by the tremendous support and partnership of the one Team of the Tucson community in bearing down on a two-week program to the Tucson youth in a life-changing, life forming experience.
You are Champions, Dreamers and Dream Makers and we welcome your courage lite with passion, strength, and love to Inspire our next generation of Leaders in making positive change to our Tucson community!
Please join us to Give the Dream and Kickoff the 2022 Arizona Youth Impact Program!
Go Champions! Go Wildcats!
Bear Down!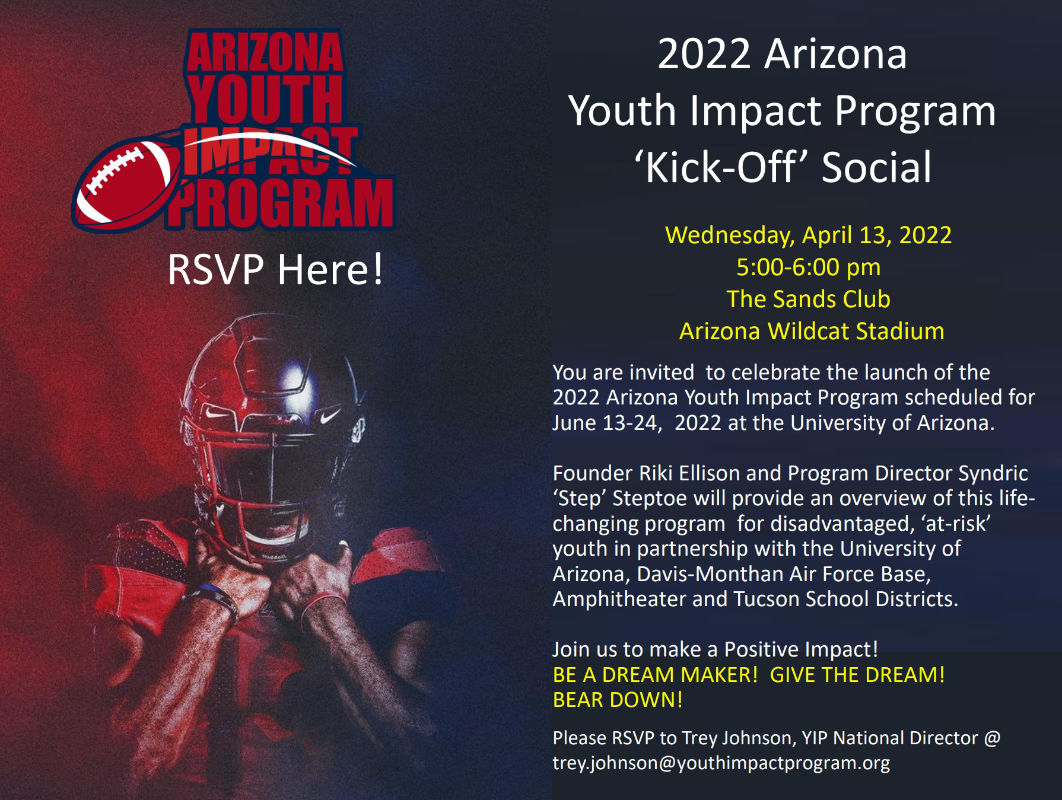 Event Details
Arizona Youth Impact Program 'Kickoff' Social
Wednesday, April 13, 2022 5:00 PM
Sands Club – Lowell-Stevens Football Stadium
565 N Cherry Ave, Tucson, AZ 85721


Riki Ellison
Chairman & Founder
Youth Impact Program
(703) 778-3411
Permanently Impacting Our Nation's At-Risk, Inner-City Youth