Skip to Content
May is Asian American and Pacific Islander (AAPI) Heritage Month
Dear Dreamers and Dream Makers
May is Asian American and Pacific Islander (AAPI) Heritage Month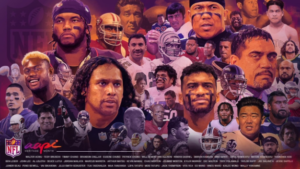 Youth Impact Program (YIP) Founder and Chairman Riki Ellison is honored by the NLF in an AAPI Heritage Month feature as one of their own Asian American and Pacific Islanders that played the game with distinction and honor from the Pacific Islands of New Zealand. Māori strong, Nagi Tahu Strong, Mana Bloodline, and 2017 inductee in the Polynesian Football Hall of Fame.
Riki transcends barriers with a unifying message committed to excellence "In the end, it's being on a team that wins and wins Super Bowl Championships together made up of a diversity of races, colors, creeds and religions that came together to overcome all opponents and obstacles to win Super Bowl Championships."
Hawaii is the 'Piko' (center or navel representing new beginnings) of Asia Pacific in the heart of Polynesia between Riki's roots in New Zealand which served as the 'point of entry' to the United States as a young man that began his fateful Dream journey that continues to be a magical place of incredible achievements in support of 'at-risk' youth as evidenced over the past week.
From May 1-6 during an action-packed week in Hawaii, history was made, highlighted by a meeting with Honolulu Mayor Rick Blangiardi along with YIP National Director Trey Johnson and Board Member Anthony Spadaro to confirm the unprecedented achievement of the 2022 Hawaii YIP featuring both a boy's program hosted by the Rainbow Warrior Football team and Women's Wahine Soccer team hosting the first-ever girl's program. This marks a historic milestone for YIP as we evolve with focus on inclusiveness by opening the door to reach disadvantaged, at-risk girls.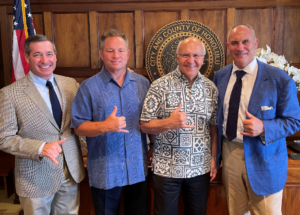 Picture with: Anthony Spadaro, Trey Johnson,
Honolulu Mayor Rick Blangiardi, Riki Ellison
Other key engagements included Breakfast with Cameron Nekota to celebrate the recent commitment of First Hawaiian Bank's corporate sponsorship, dinner with YIP supporter State Legislator Ron Kouchi, visit with University of Hawaii to discuss a Space program with STEM based academics for Hawaiian youth, culminating with a visit to the East West Center with President and retired Army Major General Suzy Vares-Lum, who will serve as Champion and Mentor for the Hawaii YIP girl's program.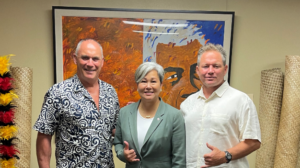 We are truly excited and proud to announce an amazing opportunity to open up YIP to reach 'at risk' girls to pursue their own Dreams as our next generation of leaders!
One Team! One Mission!
Mahalo Dream Makers!
Trey Johnson
National Director
Youth Impact Program
515 King Street
Alexandria, VA 22314
trey.johnson@youthimpactprogam.org
M: (808) 375-0121
Permanently Impacting Our Nation's At-Risk, Inner-City Youth