Skip to Content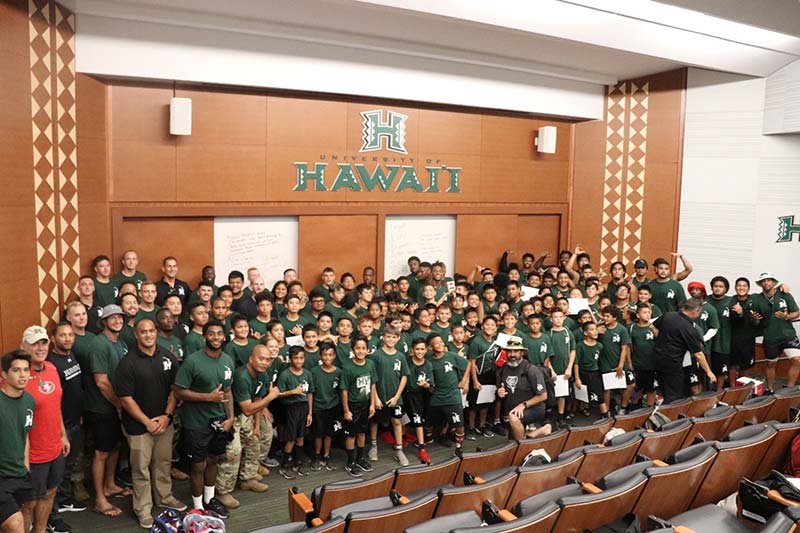 We have gone way beyond our expectations of what we could do as a community in Honolulu, Hawaii to make an impact and change young lives with the Hawaii Youth Impact Program. A truly remarkable transformation in leadership, academics, and athletics to build scholars-athletes-leaders.
YIP provided a balanced, life-changing experience that inspired the passion and triggered the desire to reach one's maximum potential as our next generation of leaders. Another important aspect of our program was engaging with our youths families to reinforce the value-based life skills that YIP provided from home. This combination of factors with a 2 Mentors to 1 Youth ratio, was carefully orchestrated resulted in a synergistic positive effect on our youth participants.
A major highlight this year is our academic accomplishments which exceeded our expectations following the execution of a comprehensive academic curriculum with STEM focus resulting in the following academic test results:
Vocabulary: 44% increase
Writing: 41% increase
Math: 24% increase
Science: 37% increase
Most importantly, the Hawaiian youth gained greater respect and appreciation for academics as evidenced by their increased confidence and ability to articulate verbally in public speaking settings and in written form, as evaluated in the composition exam.
A major leap forward in shaping and reflecting our culture at Hawaii YIP was the adaptation of a YIP Ethos combined with Army Values, recited numerous times a day with pride that became affirmations that are so critical in a young person's life when they face adversity and challenging decisions.
YIP Ethos
I make the right decision at the right time for the right reasons under any and all situations
I will always place the team first
I will never quite or accept defeat
I will always treat ALL people with Respect
I will always set the example for others to follow
Army Values
Loyalty
Duty
Respect
Selfless Service
Honor
Integrity
Personal Courage
One of our special moments we would like to highlight is about a young boy who could not afford or find the resources to have shoes, with a foot size of 16. He got by wearing flip-flops but stood out when that was all he could bring to the Hawaii Youth Impact Program day after day. He was a loyal, humble boy that developed his confidence and leadership throughout the course of our program. It is with great pride to capture this moment in front of the whole program to receive a brand new pair of shoes which brought tears to his eyes.
We thank all of the University of Hawaii Athletic staff, the University of Hawaii Football Student-Athletes, U.S. Soldiers, Marines, Public School teachers, and supporters to help make this program happen. A very special thank you to Roy Yamaguchi and Sharon Brown as the catalysts for our community support. We had a tremendous amount of local community support by providing transportation, equipment and supplies, and nutritious meals from some of the best restaurants in Hawaii.
This is One Team – One Community – One Island together making a significant difference to make the team, the community, and the island better.
Mahalo!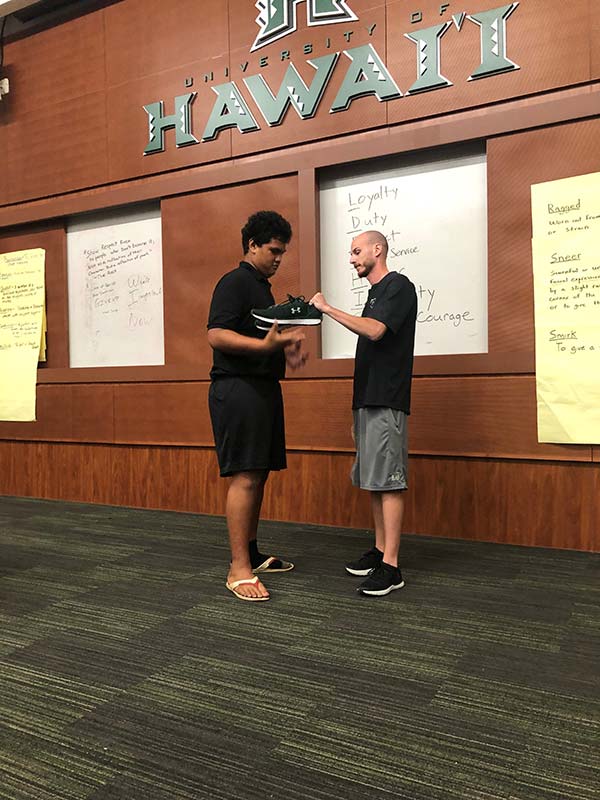 Permanently Impacting Our Nation's At-Risk, Inner-City Youth