Skip to Content
ONE TEAM! ONE BRADDAHHOOD!
ONE TEAM! ONE BRADDAHHOOD!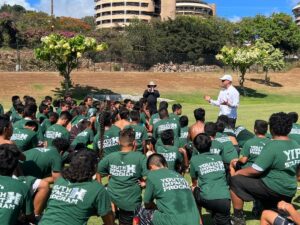 Rainbow Warriors Head Football Coach Timmy Chang imparts life lessons
and meaning of 'Braddahhood' to Hawaii YIP youth participants
Dear Dreamers and Dream Makers,

Rainbow Head Coach Timmy Chang, former NCAA passing leader, takes tremendous pride in the opportunity to serve as the host of Hawaii YIP during his first year as Head Coach of his alma mater. He is 100 percent all in and we are aligned with his vision for year-round Hawaii YIP designed for his student-athletes player development and mentorship of our YIP youth. We have a cornerstone built on 'Bruddahhood.'

"When you want something in life, when you want to be great, what do you do, you work for it! …what does hard work look like? It takes your mental, spiritual, and physical abilities, and puts them all together to go all in" states Head Coach Timmy Chang.
Rainbow Warriors Head Football Coach Timmy Chang engages with Hawaii YIP youth
The love and commitment of Hawaii YIP poured in by the entire island community is evident, as Hawaii receives full support from title sponsors First Hawaiian Bank and Roy Yamaguchi in a multi-year sponsorship, along with numerous long-time supporters who believe strongly in our mission, highlighted by generous in-kind donations to include over 4000 meals from over 20 restaurants, free bus transportation for every single one of over 100 participating youth from challenged communities throughout the island of Oahu by Roberts Hawaii, and duffle bags for each student filled with school supplies and water flasks provided by Marcus Mariota's Motive8 foundation, Office Depot and others – setting the standard of a true partnership!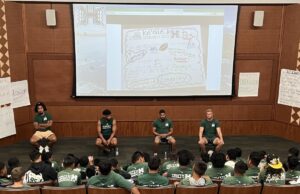 Rainbow Warrior Student Athletes share life lessons to add depth and meaning to Dream Cards
The academic curriculum was dynamic and engaging, led by seasoned teachers, all former University of Hawaii student-athletes, now DOE teachers and role models, in a team approach blending English, Math, Science and Life Skills, including life-changing educational value in learning of the Preamble, and culminating with crafting of a personalized Dream Card by each youth, capturing their life goals, and signed by mentors, teachers, and peers, to symbolize the 'MANA' or power of the shared, collective experience intended to inspire a life of achievement.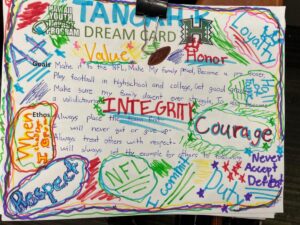 Dream Card captures personalized life goals enabled by YIP Ethos and Values
The life skills curriculum is anchored on instilling of the YIP Ethos and seven YIP values as the foundation of leadership excellence that brands Hawaii YIP, led by the University of Hawaii Army ROTC Warrior Battalion cadre and cadets, along with 16 world class military mentors provided by US Army Soldiers from the 94th Army Air and Missile Defense at historic Joint Base Pearl Harbor-Hickam and superb, professional Marines from Combat Logistics Battalion 3 based at Marine Corp Base Hawaii – all working as One Team!

The 23 Student Athletes serving as role models and mentors representing the Rainbow Warrior Football Team hand selected by Head Coach Timmy Chang showed love and compassion for the youth as they led the highly competitive afternoon football skills and competition, with full understanding of the true impact they have on the youth who strive to be like them.

As a result, with over 45 mentors present, the boys are dressed in great discipline in groups and absolutely love the program. Their enthusiasm and camaraderie is unmistakable. The boys are so appreciative and grateful – more than a glimmer, they have been moved – you can see it and you can believe it. It's truly outstanding!
Hawaii YIP experience in video
The impact is real and can be summed up with a parent who posted on Twitter, "This program is much more than a football camp. It is stepping stone for these kids and a turning point for many"…Ty (Thank you) to all the sponsors, staff, and volunteers who made this possible for our keiki (children). Keep up the great work!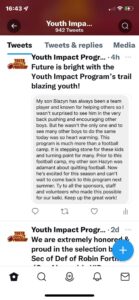 We are truly One Team, One Braddahhood committed to the betterment of our Youth, to make Dreams come True for a strong Hawaii, for a strong Nation!

Live the Dream! Be the Dream! Give the Dream!

Riki Ellison
Founder and Chairman 
Youth Impact Program
515 King Street, Suite 330
Alexandria, VA 22314
Permanently Impacting Our Nation's At-Risk, Inner-City Youth