Skip to Content
IMPACT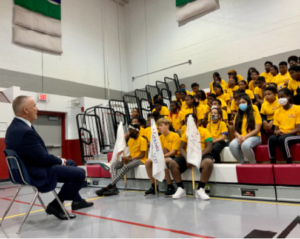 Riki Ellison, YIP Founder, speaks with the Alexandria YIP about the power of dreaming BIG
At the depths of our nation's challenges with COVID-19 and Social Unrest, we here in Alexandria Virginia were affected like most urban inner cities. We faced a drive by shooting across from our home and unprecedented PCP overdoses with a limited overburdened police force. We witnessed the tragedies of young youth caught up in a challenging environment with limited options in our neighborhood. We felt we could make impact and make social change happen for these young youth for their betterment and their families and of our community. We proceeded to create a hybrid Youth Impact Program in Alexandria our Youth Impact Program. 
https://www.youthimpactprogram.org/blog/youth-impact-program-announces-official-partnership-with-alexandria-city-public-schools/
YIP was founded in 2006 out of South Central Los Angeles in partnership with the University of Southern California, since then we have been operating it every year partnering with leaders from the U.S. military with leaders from universities across the United States in an impact to improve academic and leadership skills in middle school boys. YIP has concluded 41 programs in 15 of the most prominent universities across the country. Riki Ellison, YIP Founder, speaks with the Alexandria YIP about the power of dreaming BIG www.youthimpactprogram.org/. The Alexandria Youth Impact Program is the first time, YIP has been conducted without the support of a university institution and the first time young girls were included within the program.

The power of YIP in Alexandria is undeniable and with a five-year agreement, it's just getting started. Under the Program Director leadership of Robin Fortner, member of a retired United States Marine of 30 years and a native New Yorker, the Alexandria YIP was able to demonstrate excellence by moving in on ever increasing societal issues that are plaguing our youth. Alexandria is not exempt, our decisive action to bring YIP to Alexandria is a strategic move to get over the problems at the grass roots, the youth in their inner-city neighborhoods. YIP is designed to affect change, not based on punishment, based on trust and on implementing transformative life skills, an aptitude towards academics, and confidence. All sustainable traits to carry with them in the years to come.

Connected with a common cause, community partnerships with Alexandria City Public Schools (ACPS), Alexandria Redevelopment and Housing Authority (ARHA), and local community leaders were crucial in leveraging local resources. With a little more than month's prep time, Alexandria YIP turned toward recruitment of participants, teachers, and mentors through face-to-face engagement. Fortner, along with Gaynelle Diaz, an ARHA Representative, personally knocked on doors and made themselves readily available to parents.

Alexandria YIP commenced early June 13th and ran through June 24th with a culminating closing ceremony. Each day, YIP sought to instill leadership, life skills, and a passion to learn through a daily theme incorporating YIP Ethos, character building attributes and innovative academic lessons.

Special thanks to the United States Army and the United States Air Force. In lieu of a university and student-athletes, the two services supplied a cadre of leaders dedicated to the program's ethos and mission. The military provided an atmosphere of discipline coupled with mentorship and guidance from the beginning of each day, starting aboard the buses, continuing throughout the duration of the day and then back onto the buses before turning the participants over to the parents. At every moment, our youths were surrounded by role models and mentors at a ratio of 1:4.

YIP's focus on academics is to engage students in innovative ways utilizing Math, Science, and English. The four teachers from the local Alexandria City Public Schools were vital towards this mission. Working as a team, together under the direction of Tiffany Jones, Academic Director, the curriculum brought hands on learning and infused applicable skillsets towards real life.

We would like to extend our sincere gratitude to the residents of Alexandria. The outpour of support, resources, and donations contributed greatly to the overall positive impact and success of the program. On June 24th, the Alexandria Youth Impact Program concluded its two-week leadership camp with a culminating ceremony highlighting the program's success, and the efforts and accomplishments of the youth. Aside from a completion certificate, specific youths were acknowledged for their leadership and selfless devotion to others in the class. Bonds were undoubtedly formed, and impact towards social change were apparent.

It has only just begun, the Alexandria YIP is a demonstration of community impact to make social change. We intend to build upon this inaugural year and develop our youth to take on the societal challenges with confidence, courage, trust and leadership skills of life to succeed and lead others. It is the courage to make the right decision at the right time for the right reasons under extreme pressure that makes impact and life directional change for the positive betterment of all.
Dream Big, Live the Dream and Give the Dream!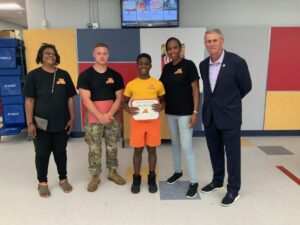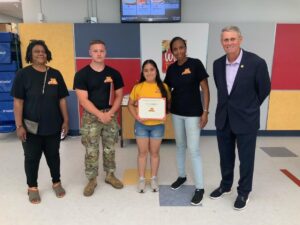 Alexandria YIP Students received certificates presented by their Teachers, Military Mentors, and Program Director.
They are joined by LtGen (Ret.) Dave Halverson, YIP Board Member

Riki Ellison
Founder and Chairman 
Youth Impact Program
515 King Street, Suite 330
Alexandria, VA 22314
Permanently Impacting Our Nation's At-Risk, Inner-City Youth