Skip to Content
HONOR DUTY RESPECT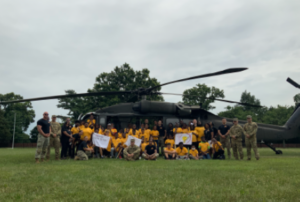 Alexandria Youth Impact Program enjoy a day at Joint Base Myers-Henderson Hall
Dear Dreamers and Dream Makers,
Earlier this week, The Alexandria Youth Impact Program led by Robin Fortner our program director who was just named by the United States Secretary of Defense Lloyd Austin III to the Defense Advisory Committee on Women in the Services led a field trip to Joint Base Myers-Henderson Hall. For most, it was their first time aboard a military installation, an experience they will never forget. Hosted by the Military District of Washington (MDW) which includes the 3d U.S. Army Infantry Regiment (The Old Guard), The U.S. Army Band (TUSAB), and the U.S. Army Aviation Brigade (TAAB), Alexandria YIP were greeted with special performances and interactive events. "What an amazing opportunity ", says SGT Mohamed Bouteldja, a lead mentor with Alexandria YIP, Bouteldja is directly responsible for the mentorship and development of the students on his Team.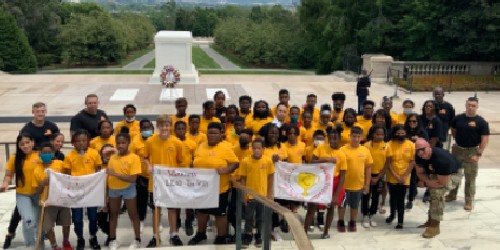 Alexandria YIP Youth visit the Tomb of the Unknown Soldier
Representing the United States Army Band "Pershing's Own", the Army's band Swamp Romp was the first performance of the day, followed by a hands-on experience with the audio engineers, who taught the students the art of "mixing." An easy favorite was next, as the students was afforded a rare opportunity to interact with a Black Hawk Helicopter Crew for familiarization with "Cold Load" Training. The students practiced egress techniques. After a "fancy" meal at the Dining facility, members of the U.S. Army Drill Team, and Fife and Drum Corps conducted a performance where the students watched for precision and accuracy.

On this particular day, the word of the day for Alexandria YIP Students was "HONOR." Being greeted by Military Horsemen, who expressed the duty and honor of the Caisson Platoon, really drove the point home. Our last stop of the day was the most sacred. Silent and respectful, the students watched the changing of the Guard at the Tomb of the Unknown Soldier.

From beginning to end the U.S. Army provided a world class experience for the Alexandria Youth Impact Program. "The United States Army really opened their arms," said Bouteldja. "They provided such an amazing day to the students of Alexandria YIP. They have gone above and beyond any measure I have ever witnessed. The whole day was filled with awe and seeing their eyes shine was the highlight for me. I couldn't have asked for a better opportunity myself."

Alexandria YIP continues to give the dream by exposing our youth to something bigger than themselves.

Be The Dream! Live the Dream! Give The Dream!

Permanently Impacting Our Nation's At-Risk, Inner-City Youth