Skip to Content
Hawaii Youth Impact Program Kicks Off for Its Second Year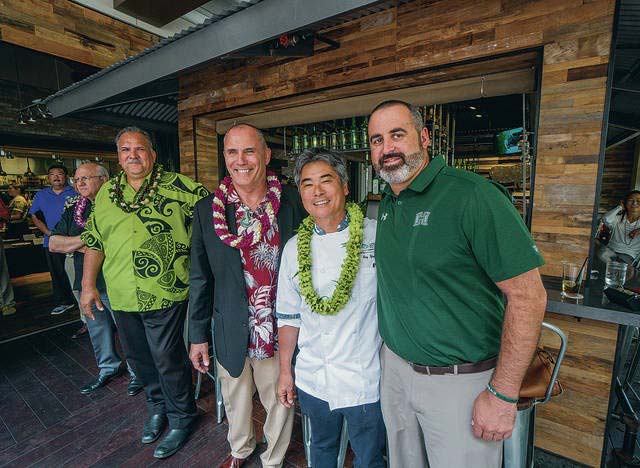 The University of Hawaii at Manoa launched its second annual Youth Impact Program on Tuesday with a press conference. Chef Roy Yamaguchi hosted the press conference at his restaurant Eating House 1849 in Waikiki. Community leaders and program officials came to celebrate the programs successes, community involvement, and excitement for the upcoming year.
Founder and Chairman, Riki Ellison describes the program as a mana program saying, "mana is the greatest gift you can get as a Polynesian given to you, it's a sign of respect and love and community support…. What we have here ladies and gentlemen is a mana program at the University of Hawaii…The program is about the ignition of the heart, of these young boys to do something bigger than themselves and to become winners for you, for this community, for their people. They are surrounded by men of mana from different cultures and some groups of them, obviously are University of Hawaii football players that come from the same background, the same challenges that these young boys come from and they look up to them. They are bringing forward that mana those characteristics that Coach has put forward into them. We have with us the U.S. Army who do the teaching. So, unlike any other of our other programs across America, these programs are taught by 4 U.S. Army teachers in the classroom. They bring a different culture of what they are for selfless service to the program. We mix into that the marines that also bring in that group. So, for these boys, they will never be surrounded by so many men for that period of time that changes their course of life."
The program will run from June 18-29, 2018. The program is led by Head Coach Nick Rolovich and the staff of the Athletic Department of the University of Hawaii, the University of Hawaii Student-Athletes, the United States Army, and the United States Marines. The teachers are a mix of Army personnel and DOE certified teachers. Last year, Student-Athletes gained college credit on a leadership course offered to them during the program. A new addition this year will be the Army NCOs to serve as counselors along with the Marines.
Over the course of two weeks, the program will provide 60+ hours of classroom time and 20 hours of football fitness training, mentoring, and teaching. The YIP curriculum is STEM (science, technology, engineering, and math) based and used football terminology to make math, reading, and life skills learning more applicable for students who are uncomfortable in a traditional learning environment. Last year, academics increased in the following subjects: Vocab increase of 61%, Science increase of 15%, Math increase of 13%, and an Overall Average Academic increase of 30%.
Last year, the Hawaii Youth Impact Program was a huge success due to its local mobilization from the Hawaii community and has only become stronger for the second year. The support helps provide participants with two meals a day, bottled water, transportation to and from the University of Hawaii, equipment, and supplies, clothing, field trips, and access to a university campus.
See the full video here: Hawaii YIP 2018 Press Conference
Honolulu, Hawaii news, sports & weather – KITV Channel 4
Honolulu, Hawaii news, sports & weather – KITV Channel 4
Honolulu, Hawaii news, sports & weather – KITV Channel 4
Honolulu, Hawaii news, sports & weather – KITV Channel 4
Attendees, Speakers, & Supporters During the Press Conference
Sharon Brown (First Hawaiian Bank), Mike Buck Radio (host of Mike Buck Show AM690 -FM94.3 KHNR), Mayor Bernard P. Carvalho, Jr. (Mayor of Kaua'i), Jason Cvercko (Hawaii Youth Impact Program Director), Riki Ellison (Chairman & founder YIP, Missile Defense Advocacy Alliance), Mufi Hannemann HLTA President & Former Mayor of Honolulu), Nick Rolovich (Head University of Hawaii Football Coach), Colonel retired Trey Johnson (US Army Representative), Ronald Kouchi (State Senator), James Kunane Tokioka (House District 15), Dakota Torres (Rainbow Warriors senior wide receiver), Roy Yamaguchi (Host & Sponsor, Eating House 1849)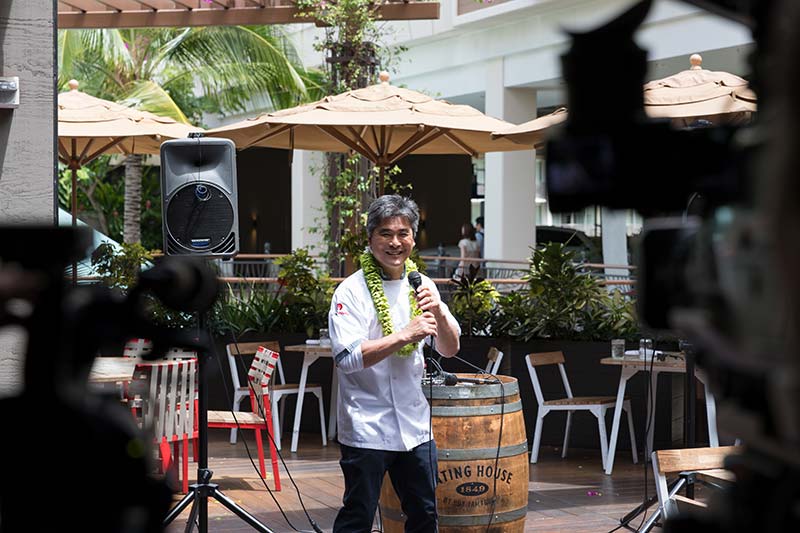 Corporate Sponsors
Alexander & Baldwin, First Hawaiian Bank, Hawaii News Now, Hawaii Tourism & Lodging Association, Island Insurance, The Mills Group, Queen's Medical Center, Royal Contracting Co. Ltd., Roy's Restaurants.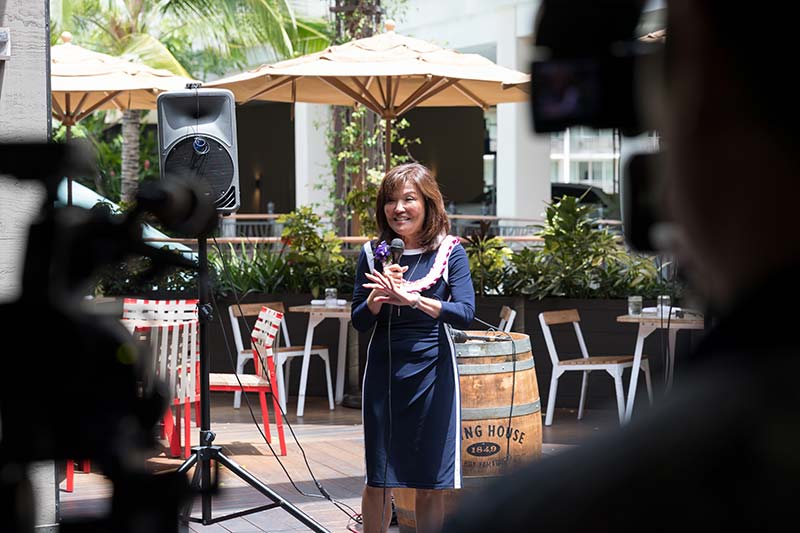 Food/Beverage Sponsors
Alan Wong's, Big City Diner, Diamond Head Market, DK/Sansei, Eating House 1849 by Roy Yamaguchi, Highway Inn Kaka'ako, Hula Grill, Kahala Hotel & Resort, Koko Head Café, McDonald's McCully, Murphy's Bar & Grill, MW Restaurant, Pancakes & Waffles, Pig & The Lady, Rainbow Drive-In, The Royal Hawaiian Hotel, Roy's Waikiki, Sodexo, StripSteak Waikiki, Zippy's McCully, Hawaii Volcanic Water.
Transportation Sponsor
Roberts Hawaii
Supply & Equipment Sponsor
Motvi8 Foundation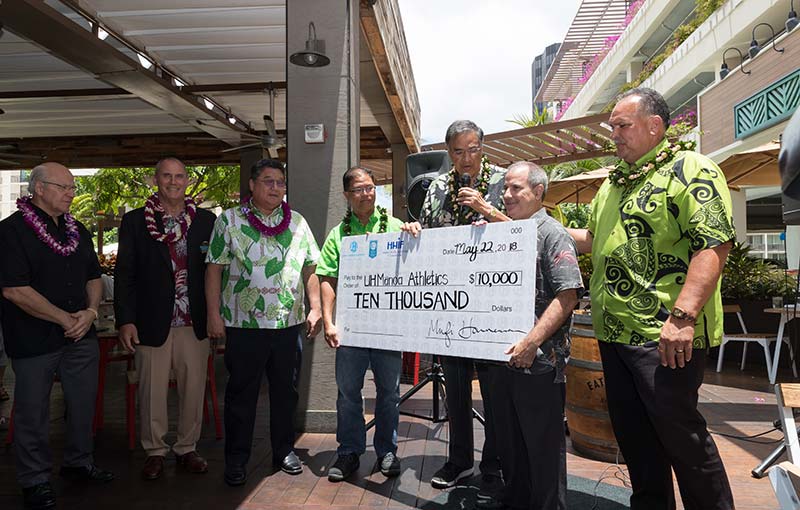 Media Coverage
Hawaii News Now – U.H. Football to host second annual Youth Impact
KITV4 – Youth Impact Program ready to kick off the second year in Hawaii
KHON2 News – Rainbow Warriors eager to host second annual Hawaii Youth Impact Program
Honolulu Star-Advertiser – UH to host program for at-risk youths
Thank you Hawaii Tourism & Lodging Association
Hawaii YIP Press Conference 2018
Permanently Impacting Our Nation's At-Risk, Inner-City Youth