Skip to Content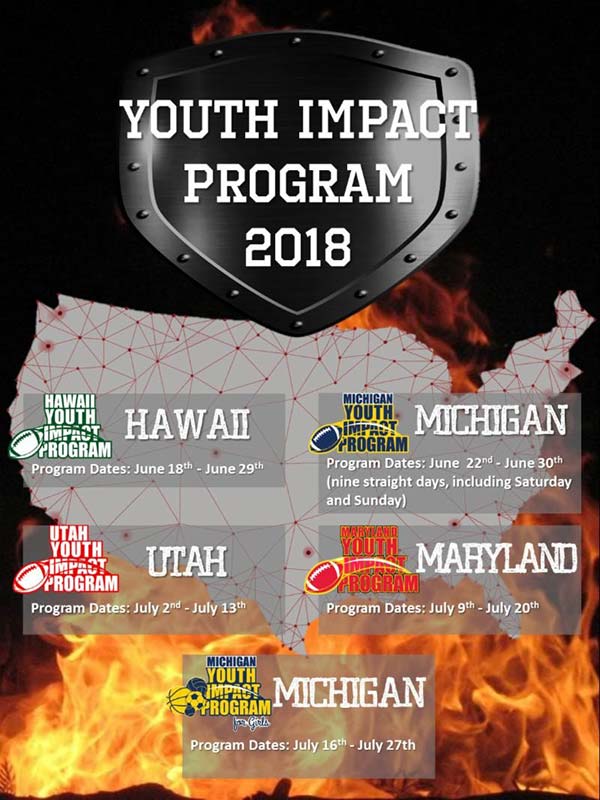 We are going Coast to Coast and we have the greatest strength of America – "it's the diversity of cultures coming together" to impact forever the lives of our youth. For the first time, we are so very honored and even more excited to bring inclusion to young at-risk girls into our Impact cauldron of YIP to give them access, trust, courage, and leadership to make a great impact in their lives and who they touch with their leadership. We are bringing our best lessons learned and practices forward and together of over 12 years, across 13 cities, with 28 programs across this great nation to make this year's 5 programs the very best they can possibly be.
Our strength and power to unite and unleash the passions of our youth comes from the unity of our vastly different communities of America that are truly reflective in our programs. We are in Hawaii, Utah, Detroit, and Washington D.C. this summer. Igniting this grit of America of at-risk youth will be lit and led by trust and inspired by the trust from the Student-Athletes of these five NCAA Universities, the United States Marines, the United States Army, and school teachers from these cities where the programs are being held.
These young hearts and minds with their ignited passion propelled by our cauldron will forever make a positive impact for the rest of their lives upon their peers, their families, and their communities. We are attacking our nation's inner-city issues head-on and heart to heart, mind to mind by the development of winners by giving them the skills, the trust, the access, the courage and associating them with winners to win. Our YIP boys and girls dream big, are big, and are bigger than themselves in their passion to learn, to compete, and with their contribution to our communities now and in the future.
Hawaii YIP
June 18 – June 29
Michigan YIP boys
June 22 – June 30
Utah YIP
July 2 – July 13
Maryland YIP
July 9 – July 20
Michigan Girls YIP
July 16 – July 27
Passion is Life and Life is Passion! Ignite your heart! And be on our YIP team!
Lite our cauldron with us and be a part of this very special program. Your support ensures that YIP can continue to empower at-risk youth nationally! Become a Dream Maker today!
Permanently Impacting Our Nation's At-Risk, Inner-City Youth