Skip to Content
Go Big, Be Big, and Dream Big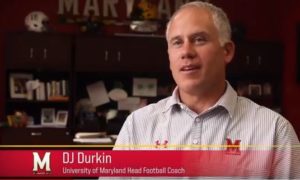 Our Maryland Youth Impact Program, "ignites the heart of an at-risk boy to propel himself from his situation to go big and be big" and this year was no different.
Teaming up again this year as Head Coach, DJ Durkin, his staff, and Student Sthletes. Together they provide the mentorship and coaching skills, "but it's not just about football, there's so much more. They're here and they study, it's to help them academically, just help them in life." Student-Athlete, Darnell Savage, talks about his role as a mentor saying, "We teach them that, you know, it's a competition and they got to outwork and outplay their opponent. It's always competition whether it's in the classroom or outside on the field."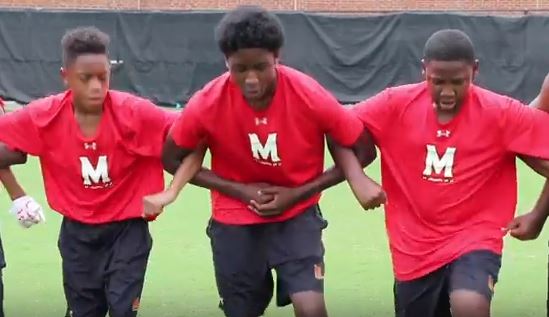 Beyond athletics and academics, is the overall leadership development of these young men. The mentors push YIP participants that have already been through the program, to step up, and become peer leaders. One of these peer leaders talks about his experience describing what he likes about it, "The one thing I like about it, is that it gives you a sense of how to work with a team and gives you a sense of how to be a leader. How to be able to command your own team and everything. Also being able to do more than what's expected."
Washington Red Skins Tight End, Vernon Davis, shares his thoughts and the unique collaborations that makeup YIP saying, "I feel like this program is above and beyond because everything that's involved with it the U.S Marines, Coach Durkin in coming out and bringing some of his players; it's just incredible to see that. This is totally different. This is something that can change the world."
The bonds that are created between mentors and these youth are the foundation for respect and trust. A Student-Athlete expresses why he feels so strongly to be part of the program, "I was one of those kids that's in the program now, growing up I really didn't have a lot of examples as to how things were supposed to be. I just feel like now that I'm in the position that I'm in today, I can give back to the kids and just relate to them. Coach Durkin also adds to what the Student-Athletes get out of the program, "the most important part that I think that goes a little bit unnoticed is how much it helps our guys. It is a lot of work on them, their there all day, but it's an experience that I really think changes them".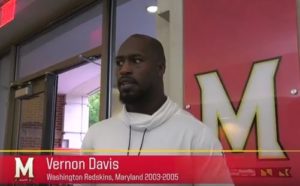 We are going BIG, being BIG, and dreaming Big!
Permanently Impacting Our Nation's At-Risk, Inner-City Youth