Skip to Content
Dr. William Van Cleave Award at Stanford YIP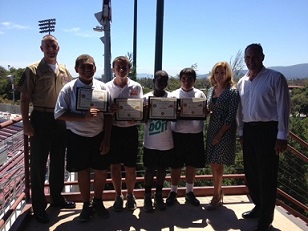 This final week of Stanford YIP has been full of activity. Tuesday and Wednesday, Riki Ellison, YIP founder, and chairman, personally visited and took part in the daily activities.
Out on the football field, the boys had a lesson in Kiwi culture as Mr Ellison taught them a traditional Maori haka. They learned the meanings of the ritual, and performed it with passion! The video is up on YouTube and Facebook: http://youtu.be/A0FonVe2EPY
We also presented, with the US Marines of the 24th Regiment and the Van Cleave family, the Dr Bill Van Cleave Award for Academic Excellence to four of our boys, hand-picked by YIP teaching staff. Establishing this award is important for YIP, as it not only recognizes the recipients, but provides inspiration to all the boys with days left in the program, and demonstrates our commitment first and foremost to academics. The award is named in honor and memory of Dr. William Van Cleave, a lover of the game and a member of the prestigious Hoover Institution on Stanford's campus.
Later in the afternoon, the U.S. Marines engaged with YIP participants through an obstacle course on the field, and a speech. Their example of character and life skills brought another great aspect to the program.
The same day, Lockheed Martin returned for a second week, this time to present the science of rocketry, and provide more inspiration to dream big in science and engineering. The lesson culminated with the firing off of rockets in Stanford Stadium. Everyone was engaged, from the boys to the Stanford athletes, captivated by the simplicity and excitement of watching rocket launches in the grandeur of the Stanford football stadium.
We also welcomed visitors to Artie Gigantino, USA Football Heads Up Master trainer, and Stanford d-line assistant Vae Tata, who shared words with our boys, adding to the positive messaging and impact we strive for at YIP.
Permanently Impacting Our Nation's At-Risk, Inner-City Youth