Skip to Content
Dear Dreamers and Dream Makers,

We are ALL-IN, right here! Right now!
Our young "at-risk" boys coming from the Salt Lake City Valley demonstrated Academic increases in two weeks in Mathematics at 16%, Vocabulary at 11%, and Writing at 5%. Their average pre-test score at the beginning of the program for the whole group was 64% and at the end of the program 71% post-testing, an increase between Pass and Fail and an increase of 7%.
Remarkable as that is, it is the impact of the program from the Parent's perspectives and testimony that gives you a feel of what the impact is, what took place, and how special the Utah YIP program is. We have changed lives!
Here are a few of our Parent emails to our Utah Youth Impact Program Academic Coordinator, Ms. Ashleigh Hamilton.
"My son and a few of my nephews participated in the yip program and I don't know what you guys did..but my son AND ALL my nephew left there sad and upset ….There sitting here crying because they are going to miss all the drill Sargents..they are going to miss all the activities they were able to participate in..they are going to miss all the (There words).YUMMY food they had for breakfast lunch and mid-dinner…They are going to miss all the football players and their crazy personalities..whatever that means..lol…They even said they were going to miss THE LEARNING PROCESS..time they had in class approving their learning skills..what is going on?.. as a parent it feels good when your child comes back talking about how this experience was by far the BEST experience they had ever had and they all had nothing but great things to say about there time at YIP. They even had a lot of great things to say about you and I just wanted to personally reach out to you and Thank You for all you and YIP have done for our boys…This is the first camp they have ever been so excited about..they can't wait till next year… A lot of them feel like they can now overcome some of their personal issues because of what they were taught at this program..so from the bottom of my heart…I just wanted 2 say Thank you for giving them this great experience."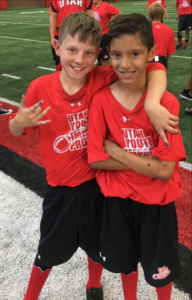 "Thank you so much for allowing us to be a part of this program. It has been an amazing experience, one that he will never forget. Is looking forward to next year."
"Words cannot express the positive experience my two boys are having since applying to attend the program. I am sure many have expressed their appreciation but let me continue to praise your commitment to our youth and making an impact on us all. We understand the program is nearing its completion of the 2018 season and we understand that we have to share the experience with others. But one out of two of my boys is so worried that he will never get to experience a program like this ever again. What are the chances of them being able to attend future Youth Impact Program? To ease the anxiety level, any information you provide is appreciated."
"One of my 3 sons participating in the Utah YIP rolled his ankle yesterday at camp. Sione Moala is limping on their right foot but he doesn't want to sit out today. He is hoping he can still come to participate in the classroom and then perhaps observe or have limited physical training. I hope that it is ok that we are sending him up today. He simply doesn't want to miss out. These kids absolutely love the Program and are already ho-humming that this is the last week. Thank your staff, students, chefs, and anyone who has a hand in this wonderful program for all you do for these young men."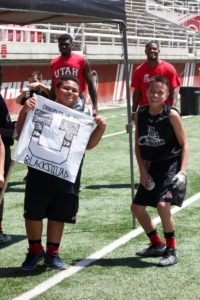 "I just wanted to email you and express my appreciation to you and whoever is involved in making this camp happen. I can't even begin to explain how grateful I am. At first, I wasn't sure of what to expect and I know my son didn't really want to go. But when he got off of the bus that first day, he could not stop talking about how awesome his day was and what a great experience he had. Every day so far he has come home and told us of all the things that he has done with such enthusiasm and excitement. Thank you for providing this opportunity. We cannot afford to send him to any football camps, so without this program, we would not be able to give this to him. Thank you for showing my son what it would be like to go to college. He now has that fire and determination in him to want to go to college. Before this college was something that he knew that he should do, but now he has that desire for himself and not just because his parents told him that he should. So once again thank you so much."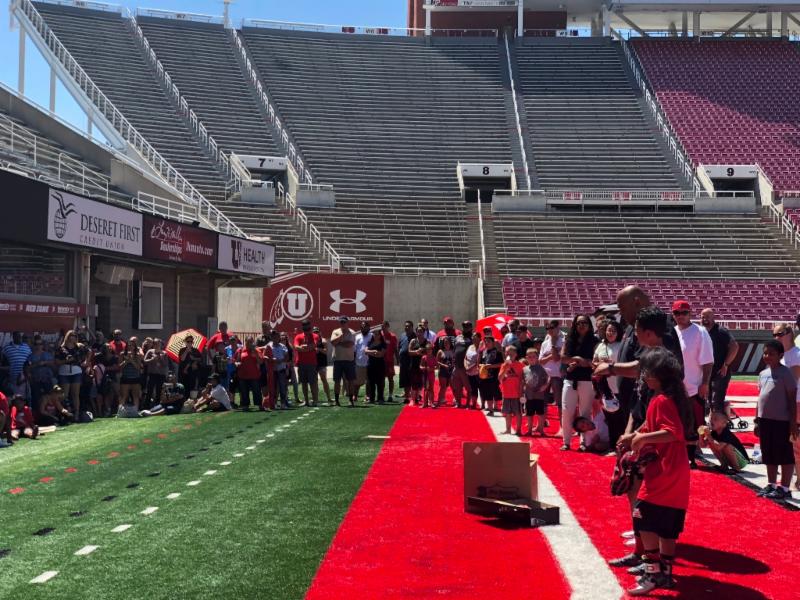 Our recognized winners of the program in leadership, academics, and athletics were not the biggest, fastest, strongest, smartest, they were the ones with the most heart, the most grit, the most love for their teammates. The most valuable player, our GOAT for Utah YIP was under 5 feet, which led from the Heart – Ben.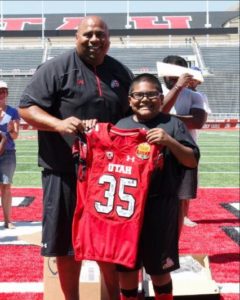 We thank the University of Utah, the Head Coach of the University of Utah – Kyle Whittingham, his staff led by Jeff Rudy our YIP Program Director, Pablo, and the University of Utah student-athletes, the public school teachers of Salt Lake City, and the Marines for making a life-changing impact upon on our youth in Salt Lake City.
Thank you to the Brent and Ann Wilson Foundation for their support and belief in the program.
Choose The Red, It is for real in Utah, we have changed lives with deep trust, character-driven leadership, relationship building, and winning culture for the Community from Community.
Thank you for Dreaming with us and making Dreams come true!
Go Utes!
Permanently Impacting Our Nation's At-Risk, Inner-City Youth