Skip to Content

Dear Dreamers and Dream Makers,
As our Maryland Student-Athletes project a statement of the realness of their emotions and truth when they present to our Maryland YIP youth, they often use the phrase "You Feel Me". As many of them have walked down the same path in the same neighborhoods and faced the same challenges that seem unbeatable at that age. They have overcome, they have made great decisions under pressure in formulating their own destiny that pushed themselves beyond their limits through their passion, their grit, their association with positive people, and their belief in their dreams.
We are all, youth, players, teachers, Maryland Football staff, and Marines beaming with Maryland pride with what has taken place over the past few weeks. We have transformed attitudes, we have ignited hearts, we have embedded leadership, we have enabled academic growth and we have made positive changes in our youth's trajectory from PG County, Alexandria, and Washington, D.C. with the University of Maryland, its student-athletes, the Marines and public-school teachers from these districts.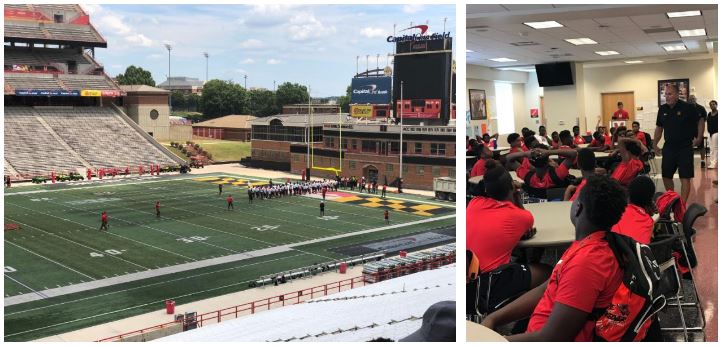 We are exceptionally excited and honored to announce our Maryland Pride in the academic increases with Vocab increase at 33%, Essay increase at 12%, Math increase at 6%, and an overall academic increase of 17% for all of our youth participating at the Maryland YIP this year. What is astonishing about all of the testing scores results is that 15% of the Maryland YIP youth participants were "special needs" with learning disabilities. Extra special was one of our Maryland Student-Athletes that was leading and mentoring our Maryland YIP youth this year who had a learning disability that overcame his challenges and earned a scholarship for the University of Maryland as a student-athlete pursuing his degree and playing for the Terrapins this year!

Our closing ceremony was a sight to see, with teams celebrating and overjoyed with pride with their lead Student-Athletes, Marines, and teachers and their parents and families watching. Each youth was introduced and given a certificate of achievement along with each of their 38 mentors were reintroduced, shouts of cheer, joy, and adulation were made known across the jam-packed auditorium. Everyone was a winner as they endured, achieved, and won! All associating with winners as many wishing the program wasn't ending, but all leaving with confidence, skills to win, vision, passion, and trust of the University of Maryland. We Feel It! It's for real in College Park, Maryland.
We are leading to make a change in our nation's capital and where change needs to be made!
Igniting the Heart and Making Dreams Reality
Go Terps!
Permanently Impacting Our Nation's At-Risk, Inner-City Youth