Skip to Content
At Risk Kids Get Academic, Life Lessons At NU Football Camp (CBS)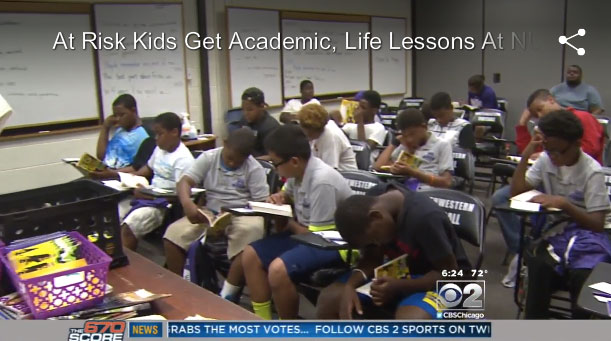 (CBS) One hundred at-risk middle school boys from the North Lawndale and Evanston areas are tackling Northwestern for a two-week camp, reports CBS 2's Megan Mawicke. Football is the hook, but the primary goal is academics and teaching life skills.
"It's hugely needed. In the area of Lawndale, there is no summer program," said Mark Matuscak, Youth Impact Program Representative. "These kids look to football players and other athletes as role models, so we teach fundamentals of football. We take education very seriously, so we hired outside academic people to build a curriculum."
"So far I've learned drills of tackling and runningback drills, reading and math classes," said 10-year-old Reginald King. "In science, we've learned about Newton's laws of motion."
They chalk up over 30 hours in the classroom. They also have leadership training to build self-confidence and expose them to things that might have seemed out of reach.
"They just teach you more stuff about life and how to become a better person," said 13-year-old LaRon Turner.
"We bring in local business leaders who come from the same backgrounds as these kids and told these kids, 'Hey, I've walked in your shoes,'" Matuscak said. "And look where I am (now). You can, too."
And they're learning their on-field skills from 22 current Northwestern players. One of them, cornerback Matt Harris, can really relate to these young men; he grew up in Lawndale just like many of them.
"We want them to really be able to focus on what's important and not get into the streets and get caught up in the wrong atmosphere," Harris said. "We're here to impact their lives."
"What I think really is special is I've seen the big guys exchanging their cell phone numbers with the little guys and saying, 'Text me. Call me if you need to talk about anything,'" said Matuscak. "That's magical. That's the secret sauce."
The Chicago Bears are also helping out with the cost, and the kids will go on a tour of Halas Hall later this week.
Permanently Impacting Our Nation's At-Risk, Inner-City Youth