Skip to Content
Achieving New Heights at Northwestern University YIP
Dear YIP Dream Makers and Friends,
Our program at Northwestern University is flourishing in its impact on the boys. The positive energy is abundant, overflowing, and visible with a contagious attitude that reflects this program. They have created a team, a family, trust, and respect for each other, it is remarkable to watch and see this program at its height. The culture has been set by great leaders starting with the true excellence of our teaching professionals from both the public and private sector in the Chicago region. Our Marines and Navy Corpsman have done a remarkable job in their leadership by example as have the graduate assistant football coaches of Northwestern University who have set the pace and overseen the structure of the program. But the great component of the program is the development of the close to 30 Northwestern Football Student-Athletes that have grown together and become true heroes and father-like figures loved by the boys. You can see the bonds of each of the groups as they truly reflect the players and institution of Northwestern.
Over the past few days, there have been remarkable experiences from the visit to the Chicago Bears where the ownership of the Bears, took the time to visit with our boys, talk to them yesterday where the boys designed and launched rockets on Ryan Field. The boy's pride, discipline can be seen as their place in this program is self-evident to each of them. Every part of the day the boys look forward to, from the smallest things of laundry to the ample overflowing food snacks provided between their classes to their hugging and playing with their Student-Athletes. What to stands out are their enthusiasm for their classes and the interaction within those classrooms in English, Maths, Science, Applied Math, and Science and Brain training for enhanced focus. Of course, is the love of the game and love of playing the game together against each other in teams. They love it so much they could play all day for hours and hours. In today's world of video games, social media individuality, it is surreal to see them play, sharpen their physical skills in a competitive team environment. This program is a winner and everyone participating in it can see it, feel it, and believe it.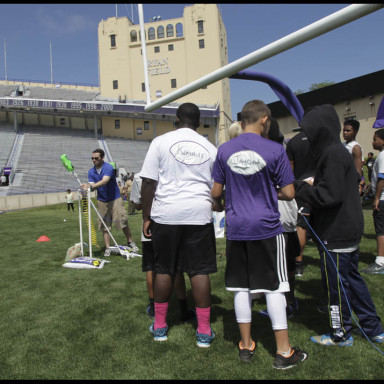 One of the true marks of success is that our daily participation is over 95 boys a day. With the temptation of summer break and distractions, we have 95 plus boys coming every day on four school buses sometimes traveling close to an hour from their neighborhoods to participate freely in a disciplined, structured environment based on hours in Science, Maths, and English.
It is truly a Community-driven, Community owned program that is making this Community better!
Click the image below to watch the local CBS affiliate station in Chicago's report on our program with interviews with our Chicago YIP Champion Mark Matuscak: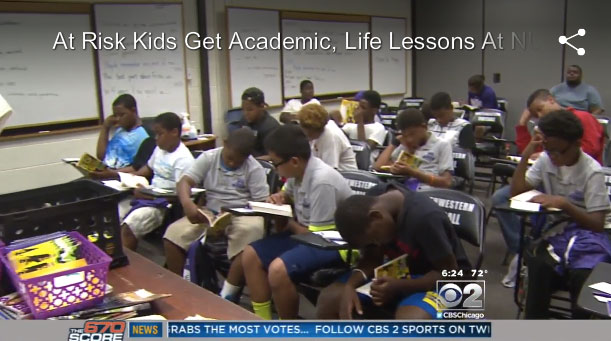 Thank you for your support and for making the impact that we are all doing together in Chicago with our Northwestern Youth Impact Program.
If you have not yet contributed to YIP this year, we still greatly need your support!
www.youthimpactprogram.org/donate
Dream Big!Respectfully,

Riki EllisonChairman and FounderYouth Impact Program
Permanently Impacting Our Nation's At-Risk, Inner-City Youth