Skip to Content
Winners associate with Winners to Win. We want to acknowledge and appreciate the support of the four-time Super Bowl Champion New York Giants Foundation who have associated with all of us to make an impact on the youth of New York City, Harlem, the Bronx and win. The NY Giants' support of making an impact on at-risk inner-city through our winning leadership at the United States Military Academy at West Point and their cadets links two great American Institutions on a common bond in making our youth, our communities, and our national winners.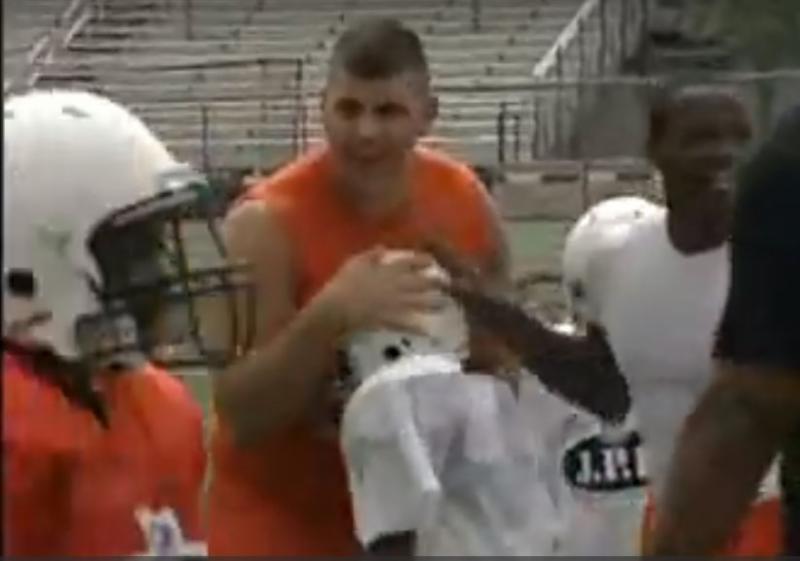 Within the NY Giants' financial support and facility support of YIP are two of their starting players that were former YIP Student-Athlete leaders and mentors at Syracuse, New York, and at USC in Los Angeles California, Offensive Guard, Justin Pugh, and Tight End, Rhett Ellison.
As we recognize our Student-Athlete leaders, there is a heartwarming story below of one of the great ones, Jon Runyan Jr. from the big blue in Ann Arbor with one of our special needs boys this summer. Runyan's dad, Jon Runyan, too played for Michigan and an All-Pro and played in the NFL for the Houston Oilers / Tennessee Titans, Philadelphia Eagles, and the San Diego Chargers.
We are honored and deeply thankful to be associated with all of you.
We are going to keep winning with you! Making Impact, Changing Lives, and making our Nation better with the development and focus on our inner city and institutional cultures to bring trust and respect across all races to create winning environments.
---
Impact Story about a Student-Athlete: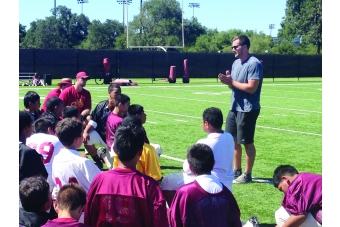 Student Athlete, Coach Jon, and YIP Participant, Big John
During the Youth Impact Program, the boys compete and excel as a team academically and socially on and off the field. There was one-sixth grader nicknamed "Big John" by the football players. John always asked for help and never quite understood anything the first, second, or third time, yet he never gave up.
In class, he would always come to my desk and ask for more help, a football player named "Coach Jon", would jump up all friendly and big brother like to work with Big John in a small group or one on one. The class would get punished as a group when any member of the "team failed", which would greatly upset Big John. Coach Jon and I started talking, we felt bad for how sad it made Big John, and a few times he was left in tears. I believed Big John was mildly cognitively impaired. This means, unlike a cognitively impaired child, socially and conversationally he appears normal, however, educationally he would best be matched in the "career pathways test" as a gardener or custodian.
As we were talking, the class was marching with our Marine and getting extra marching because Big John could not march correctly. For example, Left, Left, left right left. All the kids stepped left, right, left, right, like normal. Big John would step left foot (drag right foot), left, left right left. He never quit and had tears rolling down his face. I called him over, he was upset and disappointed with himself. He kept telling me he was doing exactly what Sargent said and was listening. Without missing a beat, Coach Jon put his arm on his shoulder, walked him back to formation, told Big John to watch him, and marched next to him information to fix the situation. Big John was all smiles as they marched to lunch and his classmates laid off him as he marched correctly.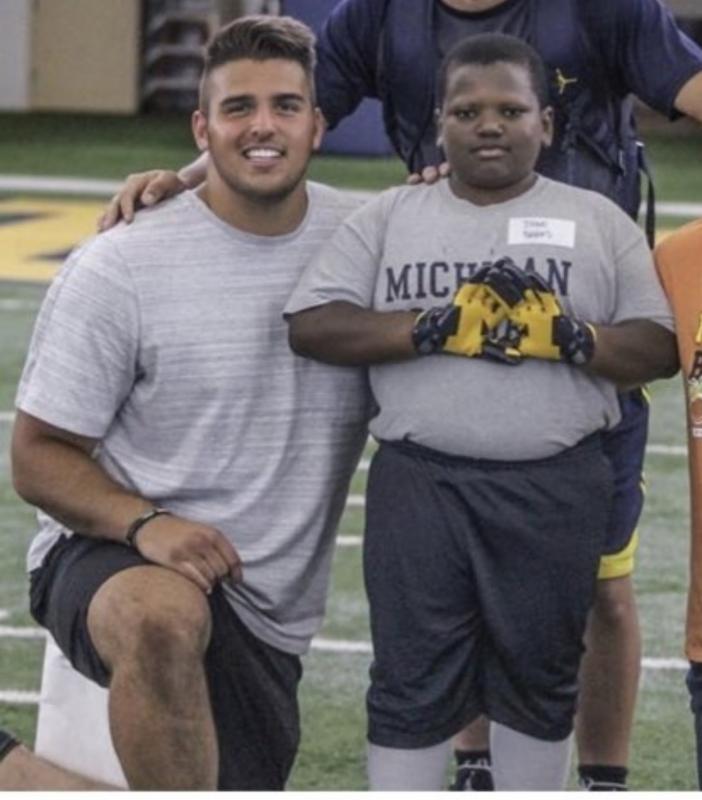 At lunchtime the three special needs kids usually sat alone at a round table with 10-12 seats. On this day, Coach Jon started eating lunch with them. The next thing you knew, other football players sat with Coach Jon and included the boys in their conversation. Needless to say, you knew which table eventually became the "in crowd". All this, Coach Jon did with no prodding, it warmed my heart that in the height of his youth Coach Jon was so aware of the feelings of others.
Coach Jon continued to mentor Big John and take him under his wing. This occurred even on the football field. When Big John got plays or exercises wrong Coach Jon would pull him aside and work one on one with him. Big John was now so accepted that he would tell Coach Jon, "ok, thanks, I got it, I need to get back to my team." Big John smiled with confidence, I watched as he transformed into part of the team, walking with his chin up and a bounce in his step that lacked previously. This transformation had nothing to do with me or the Marines, it had to do with Coach Jon.
n the final day of camp awards was given to a person in each class. We knew it was always the brightest, best behaved, and best athlete. Coach Jon gave his team's award to Big John, he included a speech about how real winners and team players never give up. He gave several examples, and from my vantage point I could see Big John's shock and pride as well as his parents, it is most likely the first time in his life he has ever received such an award. I spoke to Big John's mom afterward. She informed me that all of John's teachers love him and remark about how sweet and polite he is. However, with a lot of work, his highest grade is a C, and other than participation he had never received such an acknowledgment, praise, or recognition. She then thanked me and went to look for the man who truly made an impact in her son's life, she wanted to thank Coach Jon.
-Public School Teacher
Permanently Impacting Our Nation's At-Risk, Inner-City Youth