Skip to Content
A Testament on Setting Conditions to Win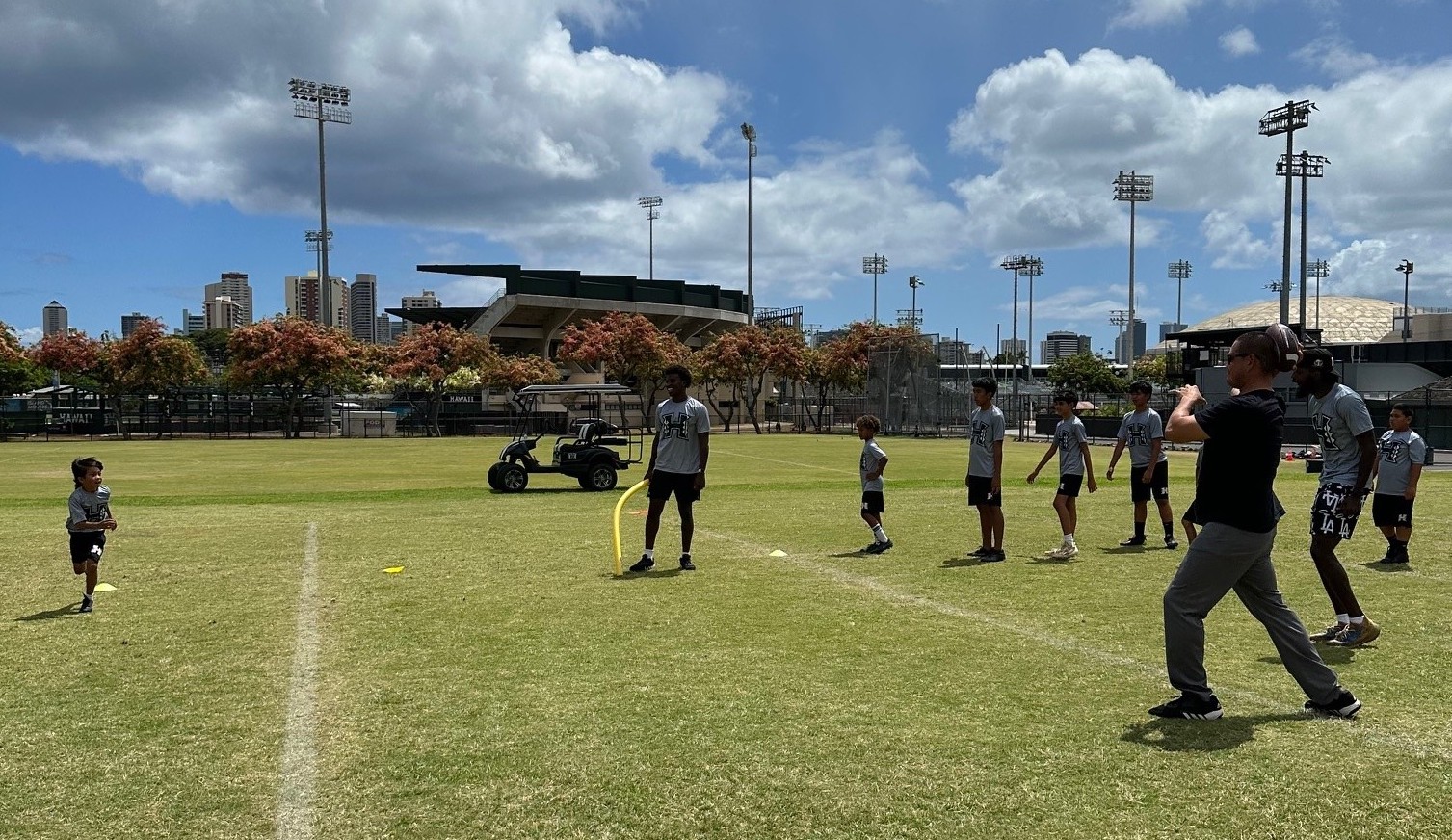 The 2023 Hawaii Youth Impact program is exceptional on how it is run as we have three academic classes in Math, Science and English daily with an override of STEM from our YIP STEM expert Bryan Silver (Kalani High School Teacher award winning STEM director of our STEM YIP) who has 23 years in the Hawaii Public Schools that presents to group on whole. Our class rooms are now separated by grades as we have 7th and 8th graders, 6th graders and 5th and 4th graders. Which makes it easier for the teachers to teach and the boys to learn with their peers. We mix them up on the field of play so that all of the grades play together on a team that will compete in team play at the end of practice and are aware of that team as being part of it when they break from their classrooms. We have green, blue, red and purple – football teams – with mixed grades – football – accountable for good behavior in their academic groups – it is working very effectively! If someone disrupts the class – he and the entire "football team – color" hears about it and discipline with in the team creates loyalty, duty and respect. Our Military has brought order discipline and respect leading the YIP Ethos that they lead by, stand by and teach by, placing the mission – family and team- first, never quit or accept defeat, always treat All people with respect, will always set the example for others to follow. It was the Army's birthday last Tuesday and we had our Army mentors present themselves led by SGM Milam of the 94th AAMDC to the overall group.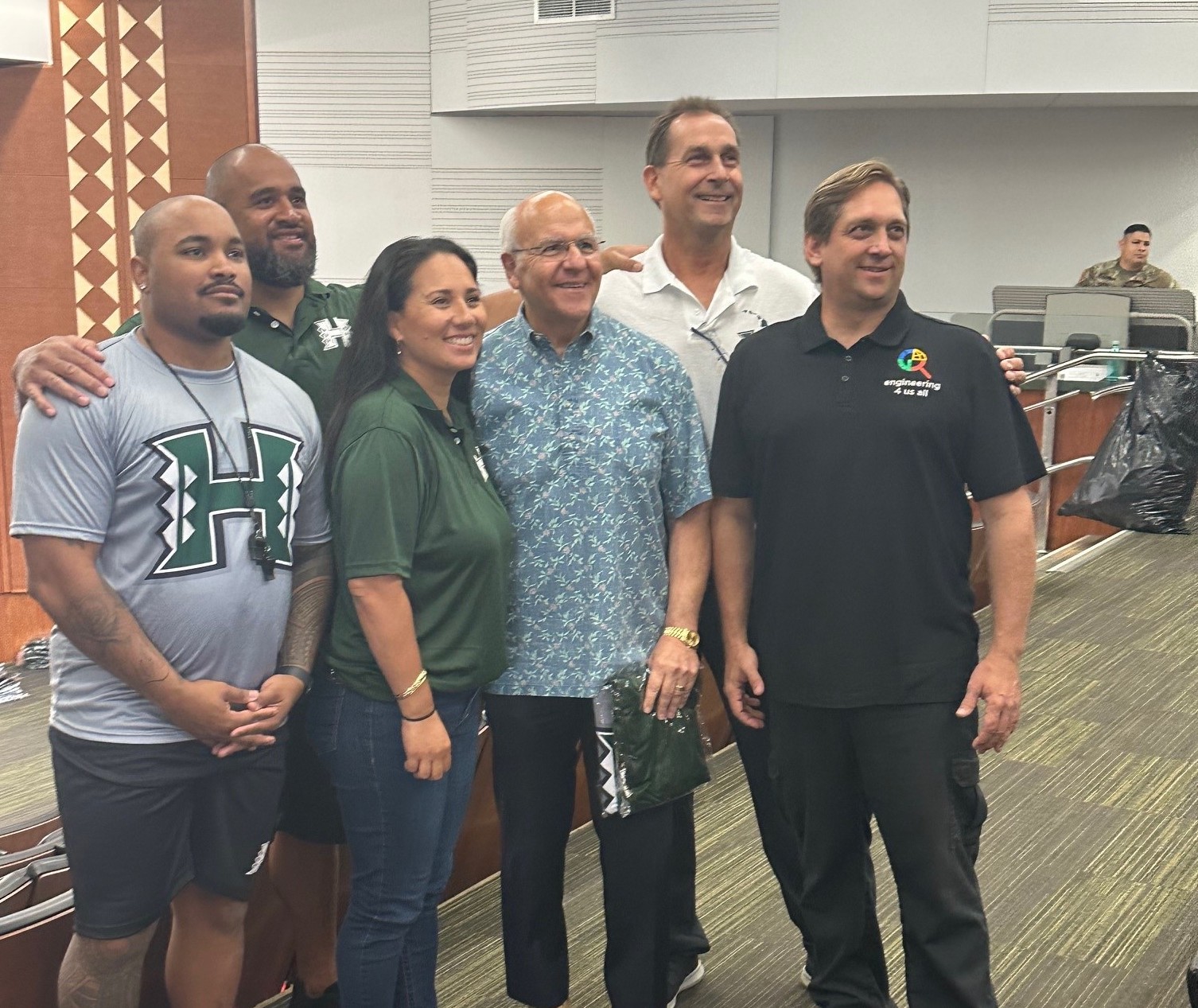 We have had outstanding speakers in the first few days and we are building a "trust" bridge of the institutions as each of our speakers were winners and from the institutions we have surrounded the children by. These institutions develop winners and proof of action means much more than words. Having two respectable and hero like figures that have come out of the University of Hawaii that maybe some of the best all time products of UH to be present and active and present to them was off the charts. The Mayor of Honolulu Rick Blangliardi and U.S. Navy SEAL TEAM enlisted and officer who were part of outstanding missions from Hawaii and went to UH – by the way both played football for UH. These are super hero's to the young boys. What says a lot about this program with great UH products is having Head Coach Timmy Chang former All WAC and 2 time Hawaii Bowl MVP -UH QB show up on his own accord multiple times on the field and playing with the boys for the fun of the game and love of the game. It's powerful.
Our Program Director Ziggy Ramil and his team of teams and teachers led by Joe Lileikis and Rustin (Nui Valley Middle School), Ku'ulei from Koko Head Elementary Teacher and Darren from New Zealand has gone up and beyond our expectations – Ziggy has moved this program in leaps and bounds.
We have an outstanding program- it is better than it ever has been.
Winners Associate with Winners to Win. Opening our Hawaii Youth Impact Program 2023 this past week in Honolulu at UH, we Dream Big and have big dreamers – we have three young dreamers that have made their dreams come true with YIP as they where all three young participants in your Youth Impact Program and now are three Student Athletes on Football Scholarship for the University of Hawaii: Justin Sinclair, Devyn King and Li"atama "Tama" Uiliata. What is remarkable is that two of the three student athletes attended the Stanford YIP program from East Palo Alto in 2013, 2014 programs in Palo Alto, California with the US Marines and Stanford Football Student Athletes led by Austin Hooper TE Atlanta Falcons and Andrew Luck Indianapolis Colts.
More off the Charts and complete validation of Impact is one of the three YIP Dream Maker Hawaiian Student Athletes is working as Youth Impact Program mentor to the Hawaii Youth Impact program 2023. His name is Justin Sinclair playing Defensive Back and we had him speak to his dream to the all the youth at our Hawaii YIP last week. Justin's University of Hawaii teammate Devyn King who plays Defensive Back also attended Stanford YIP with Justin Sinclair.
Home grown and extra extra special is Hawaii's Offensive Player of the Year out of Waipahu High School -Li"atama "Tama" Uiliata a former University of Hawaii YIP participant is playing for the University of Hawaii this fall.
It is a testament to the setting of conditions to win at the University of Hawaii Youth Impact Program – Settings set by University of Hawaii, our Hawaii teachers, the United States Military and the University of Hawaii Student Athletes that are all Dream Makers making Impact happen at our Youth Impact Program.
Dream Big, Have the Courage to Be Big and Live Your Dream.
Dream On!
Permanently Impacting Our Nation's At-Risk, Inner-City Youth