Skip to Content
The Hawaii Youth Impact Program 23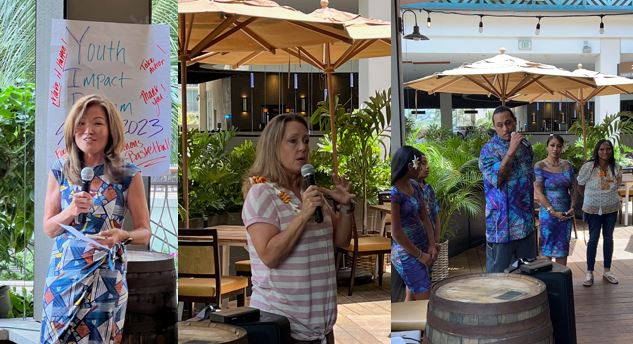 .
Our Hawaii Champions, our Hawaii Dream Makers, have gathered together to make the Hawaii community first in youth impact, first in social change, and first in leadership development with the First Hawaiian Bank and foundational institutions of Hawaii to bring access, education, trust, and lifetime relationships to all those that participate. The University of Hawaii and The United States Army Pacific are our pillars of institutional excellence and support for Hawaii YIP 2023.
Our Hawaii YIP has the historic legacy of our first girls YIP program led by the back-to-back campions of the Big West women's conference basketball team (https://youtu.be/wBv9qM7m0Qg) and their second consecutive year to the NCAA Womens Basketball tournament led by their Head Coach Laura Beeman. Coach Beeman of UH Wahine Basketball built our Youth Impact Program for our young Wahine and her student-athletes to make them better prepared for life and its challenges. She introduced Yoga, Hawaiian Studies, Mental Health, and brought in inspirational women speakers. Notably, she had all of her Student-Athletes participate in the program for their leadership development as it was foundational for their success.
On a parallel path, the Hawaii YIP boys program is led by the University of Hawaii All-American Quarterback Timmy Chang, Head Football Coach, first year and now a second year, with his support and his student-athletes participating and benefiting in their leadership development as a successful winning team. Much aloha and congratulations to our program graduates as we had few more of our Hawaii YIP student-athletes drafted into the NFL this year.
We opened the Hawaii Youth Impact Program 2023 kick-off with a kickoff luncheon hosted by one of our founding members of Hawaii YIP – Roy Yamaguchi, at his Eating House 1849 restaurant in Waikiki. Alongside him, another esteemed founding member and leader of the Hawai'i Community and founder of Hawaii YIP- Sharon Brown- who led her relationships to bring resources from the Community for the Community. Our first among first YIP founders, State of Hawaii Senate President Ron Kouchi, whose vision and leadership brought the University of Hawaii to the birth of the program from his Garage gatherings in Kauai a decade ago. The backbone, the heart, the soul support, and all of the help of the Hawaii YIP comes from the local Hawaii Community and Leadership- we had many of our firsts attend our Aloha YIP luncheon. Our First Sponsor, The First Hawaiian Bank, is our First ever Sponsor for Hawaii YIP with a three Year $150,000 sponsorship commitment led by Cameron NeKota, which is enormous and we greatly appreciate. We recognize and are grateful to Mrs. Lynn Lally and her generous gift of $50,000 for the Hawaii Youth Impact Program. We also have the continued support from Hawai'i "Roberts Hawai'i" led by Roy Pfund, which is vital for our homeless and at-risk youth to attend as Roberts brings all the youth to the University of Hawai'i in the early mornings and brings them back in the late afternoons daily for two weeks. We are thankful for all of our Dreammakers of Hawai'i YIP.
Our Hawai'i YIP for the boys is at the University of Hawaii on June 12 through June 23, and the Hawaii YIP for the Girls is at the University of Hawaii on July 6 through July 15. Our 2023 Hawaii YIP director is Ziggy Ramil, who was been with us in support of our past YIP Hawaii programs served as the master of ceremonies for our luncheon, expressed his excitement about joining the team this year and the growth he sees in this program in the upcoming years.
Parents of one of our participants, Mr and Mrs. Simanu thanked the University, the YIP, the Military, and the Sponsors. Their Daughter, Alofa, participated in the first girl program with Coach Beeman; she stated that this program opened her eyes to a future in sports, college, and the importance of being balanced as a student-athlete. Her younger brother, Nazareth, was very emotional but expressed the things he liked most was to be with the athletes, coaches, and fun military volunteers. He can't wait for this year and neither can we!
Much Aloha and Mahalo
Permanently Impacting Our Nation's At-Risk, Inner-City Youth