Skip to Content
WELCOME TO THE BIG 10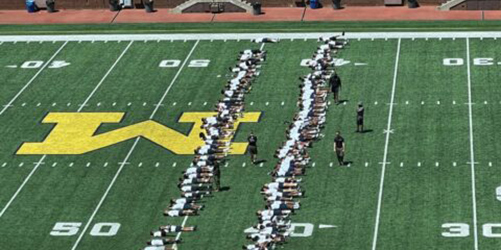 Michigan YIP youth begin their Dreams at the University of Michigan Stadium 'The Big House' 
Dear Dreamers and Dream Makers,
Welcome to the Big 10, the University of Michigan Youth Impact Program.
Hail! to the victors valiant
Hail! to the conquering heroes
Hail! Hail! to Michigan
The Champions of the West
The University of Michigan, the Big Ten Champions, leads the Michigan Youth Impact Program from Detroit to Ann Arbor as they opened the Big House this past week for a monumental start of the 2022 Michigan Youth Impact Program.
The University of Michigan football team led by Coach Jim Harbaugh and our Youth Program Director, Chris Bryant bring Big Dreams from the Big 10 and Big Blue character, leadership, academics with the Marines forging the way of making boys into young men in making them champion leaders. Our Detroit public school teachers break the mold to wield their craft inspiring thirst for knowledge and learning as a lifetime goal. We are answering our young men from Detroit the call to become more significant than themselves, see a better version of themselves, and become Big dreamers of tomorrow.
Each day the participants are turning what they are learning into action. The life skill lessons each day are woven into teachable moments by the teachers, the Marines and Michigan Football student-athlete mentors to reinforce the meaning of the lessons – reinforcing the concept of The Team.
Many of the youth in our program from Detroit have been isolated since COVID are relearning collaboration and teamwork. No better way than to achieve those traits then in the Big House with the Big Ten Champions.
LIVE THE DREAM! BE THE DREAM! GIVE THE DREAM!

Riki Ellison

Founder and Chairman

Youth Impact Program

515 King Street, Suite 330

Alexandria, VA 22314
Permanently Impacting Our Nation's At-Risk, Inner-City Youth