Skip to Content
Weekend of Dreams Come True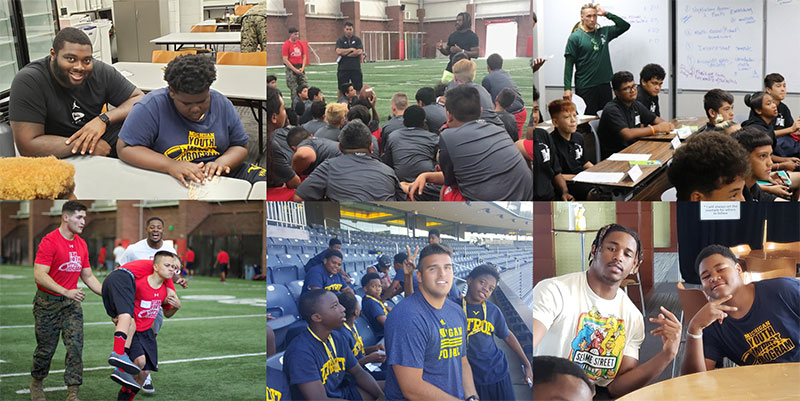 There were 12 more Dreamers from 4 of our Youth Impact Programs to add to First Rounder, Cesar Ruiz that was drafted into the NFL! Inspiration, belief, and faith of big dreams of leadership, personal trust, and friendship come to our young Youth Impact participants that were led by these Dream Makers in the four communities of Detroit, Michigan, DC, Maryland, Salt Lake City, Utah, and Honolulu Hawaii. We give respect to the 13 YIP Student-Athlete leaders and mentors that got drafted in the NFL over the weekend:
Pick #24. New Orleans: OL Cesar Ruiz, Michigan
Pick #60. New England f/BAL: EDGE Josh Uche, Michigan
Pick #86. Buffalo: RB Zack Moss, Utah
Pick #104. LA Rams*: S Terrell Burgess, Utah
Pick #143. Baltimore*: G Ben Bredeson, Michigan
Pick #162. Washington f/PIT via SEA: LB Khaleke Hudson, Michigan
Pick #179. Dallas*: DE Bradlee Anae, Utah
Pick #182. New England f/DET via IND: G Michael Onwenu, Michigan
Pick #187. Cleveland f/ARI: WR Donovan Peoples-Jones, Michigan
Pick #192. Green Bay f/LV: OL Jon Runyan, Michigan
Pick #198. Pittsburgh: S Antoine Brooks Jr., Maryland
Pick #213. Indianapolis f/NE*: S/LB Jordan Glasgow, Michigan
Pick #224. Tennessee f/CLE: QB Cole McDonald, Hawaii
These YIP leaders are the epitome of our winning culture demonstrating the great character and ethos of winners. Holistically, they are great role models of humility, trust, and virtue for our young at-risk youth. They are the mentors that are making the impact and creating lasting impressions and relationships with our YIP boys. They are making their dreams more than a vision, a dream come to life and reality, and a dream they can apply in the means of character they see, they trust, and they have confidence in their future.

A big congratulations as it is the ultimate dream come true for their hard work has finally paid off! What a true pleasure it has been to see them grow in their leadership roles as mentors for YIP, members of their teams, and reflections of their communities representing their respective universities, and now become drafted. We have the utmost confidence that they will bring that winning mentality to their respective teams and new communities.

In the past four years, we have had 30 YIP Student-Athlete mentors get drafted into the NFL from the diverse communities of our Nation. In times like these, it is remarkable what these role models embody, a true sense of what discipline, character, and leadership look like. They will be leading with passion from the heart, from our Ethos, and will continue to inspire our YIP family of communities around the nation!

YIP Ethos
I make the right decision at the right time for the right reasons under any and all situations
I will always place the team first
I will never quit or accept defeat
I will always treat ALL people with Respect
I will always set the example for others to follow
Dream Up! Dream On!

Winners associate with Winners to Win!
Permanently Impacting Our Nation's At-Risk, Inner-City Youth