Skip to Content
University Maryland Youth Impact Program 2017

In your dream making role that has enabled us to ignite the hearts of our youth to dream big, trust their own community academic institutions, establish relationships that propel their dreams, gather skills of respect, discipline, and academic dominance in making permanent impact forever in their lives, we are providing you a perspective and condensed summary of the successes of each of our 5 Youth Impact Programs across 5 major urban cities of our Nation that have taken place this summer.
Our program today we are highlighting for awareness is the University of Maryland Youth Impact Program and the at-risk youth from the greater D.C. area.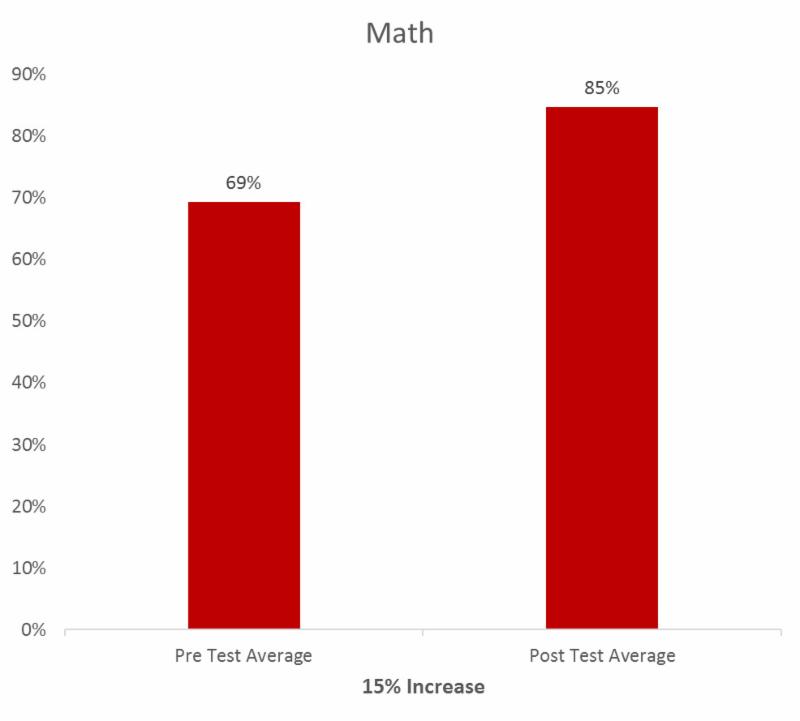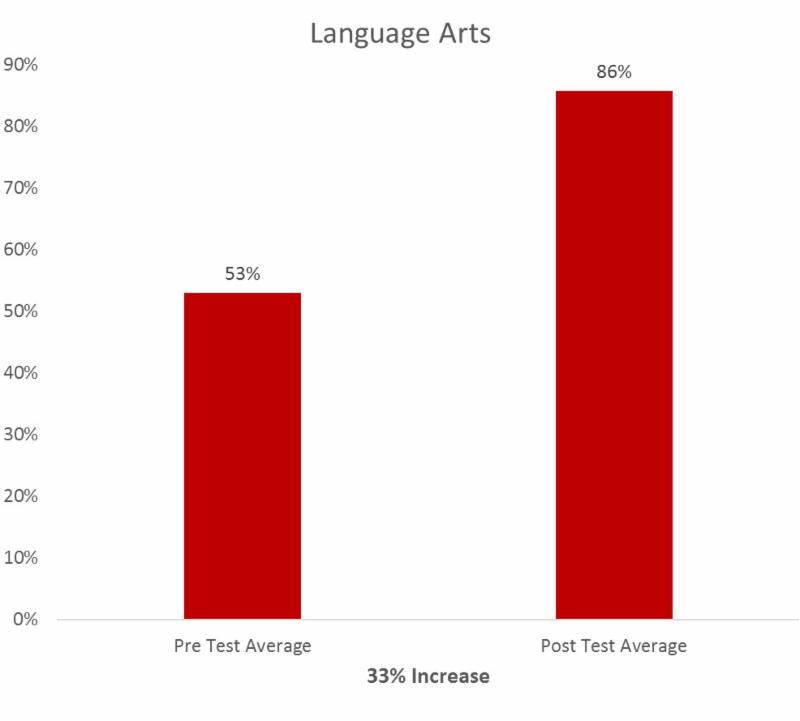 Math increase of 15%
Language Arts increase of 33%
Overall Average Academic increase of 24%
Parent Testimonies From Two Maryland Youth Impact Program: Parents From Clinton, MD Wrote:
We would personally like to thank you and express our gratitude for this wonderful and outstanding program that you've contributed which benefits our young men of today. We love and appreciate that the University of Maryland Football players and the United States Marines put their own time aside to help our youth with some basic life skills, exercise workouts, as well as football drills for those that want to become student-athletes.
There is no kinder act than to dedicate time and effort to help our children grow and become model citizens. Every volunteer that we have personally met and greeted, whether it be when we're dropping our children off or picking them up, is a great role model and brings up the spirits of our kids, including us as parents as well. Positive activities and programs such as this really make a difference in the lives of children; specifically, those who may be at risk. As parents and mentors, it is our responsibility to let the children know that we don't want to contain their energy, but we are responsible to cause its positive release.
Despite our children being tired from the rigorous and daily activities that they participated in, they always found the motivation to continue and not quit! This is where the Marines played a big role in their development. I myself am a Retired United States Marine and it has certainly been a pleasure watching my fellow brothers teach my children the life skills needed to cope in society today.
From the program's initiation to its end, we witnessed the great efforts and sincerity of the volunteers. We appreciate your approach to promoting awareness to the children of all age groups regarding the necessity of education and literacy!
Through this letter, we once again want to thank you and all the volunteers for a job well done. We appreciate all the hard work that everyone had to put in and it was because of dedicated volunteers and yourself that made this a complete success. May God continue to Bless you and all that participated. Keep up the good work and should you ever need any assistance from us to offer our time to your endeavors, please don't hesitate to ask. Thanks again.
Mom From Bowie, MD Writes:
I would like to personally thank you for your commitment to the community, your vision has given my son an opportunity to explore a camp that I would not have been able to afford. During Mekhi's time at the MD.Y.I.P, he was given tools that helped enable him to realize his full potential and to become a productive and responsible kid. The collaboration between the staff, players, and soldiers made it easier for him to engage fully and also connect with others.
Every day that I picked him up, he had an exciting story to tell me. He also was so exhausted that he would fall asleep for hours…and couldn't wait to start the next day.
This program along with continued support will help him and others around him build character, academic success, leadership, and citizenship skills. The kid's paths to success may be different but will be vibrant.
Again thank you and I'm grateful to the generous vendors that also made these two weeks a success, great opportunity, and experience for everyone.
See you next year!
Mom From PG County, MD Writes:
My son has the honor and privilege to participate in the YIP program for this 2017 summer. This program is and has transformed him on many levels. He loves the male leadership from the Marines and the Maryland football players, where he sees hands-on men making a difference in helping him and other male youth handle their differences by talking not fighting. Also the importance of determination and working hard to achieve his goals, my son now knows the importance of working hard in life and to push through, and not giving up when things get hard. His confidence level is stronger. And believe it or not, he actually loves his Math teacher, he is so excited to learn. (My son) looks forward to getting up in the mornings to go camp and is actually very sad that the program is almost over. He told me he prays he gets to participate next year. (My son) is a football fanatic he LOVES football so much, learning how to work together, learning more strategies of the game, and respecting his coaches.
This program is VITAL for our male youth to help them learn a better positive way to achieve their goals in life. For them to actually work with men that are positive is life-changing for them. So many of our male youth see on daily basis negativity in males fighting, arguing, killing each other, it is important that our youth have a chance at life to succeed positively in whatever career they choose. This program lets each of our male youth know that they are IMPORTANT and that THEIR LIVES MATTER that it is cool to be a leader, not a follower. The YIP program has already made such a positive change in my son's life and I can not thank you enough for choosing him. Please keep this program going. Almost every male youth in this age category needs this program, it is literally almost LIFE or DEATH for them.
May God continue to bless you all and thank you so much for all of you taking time out to show our male youth a better way to succeed in life.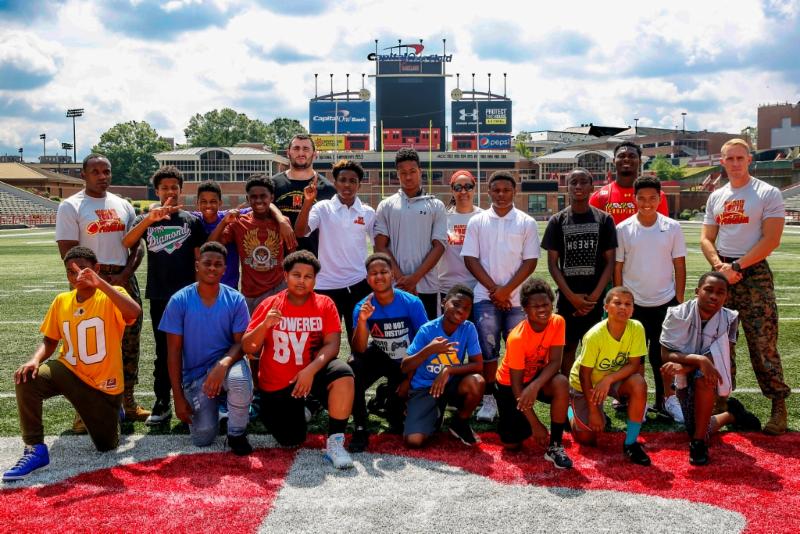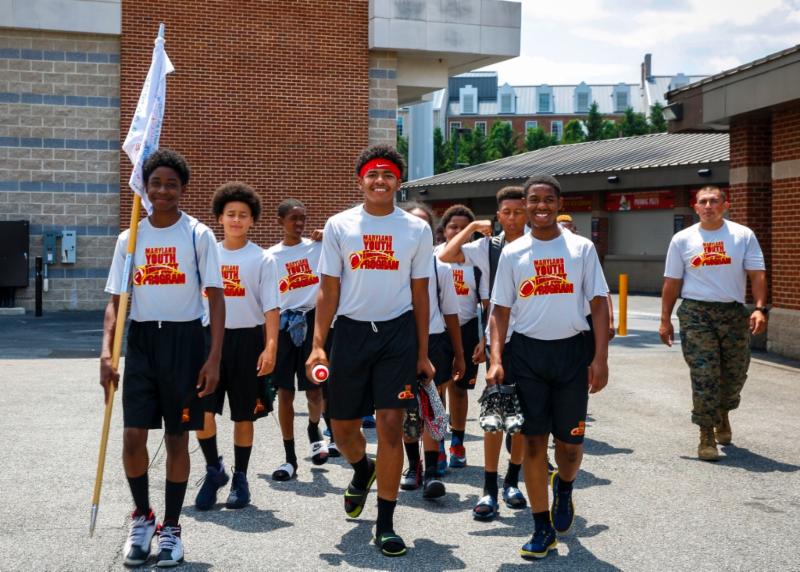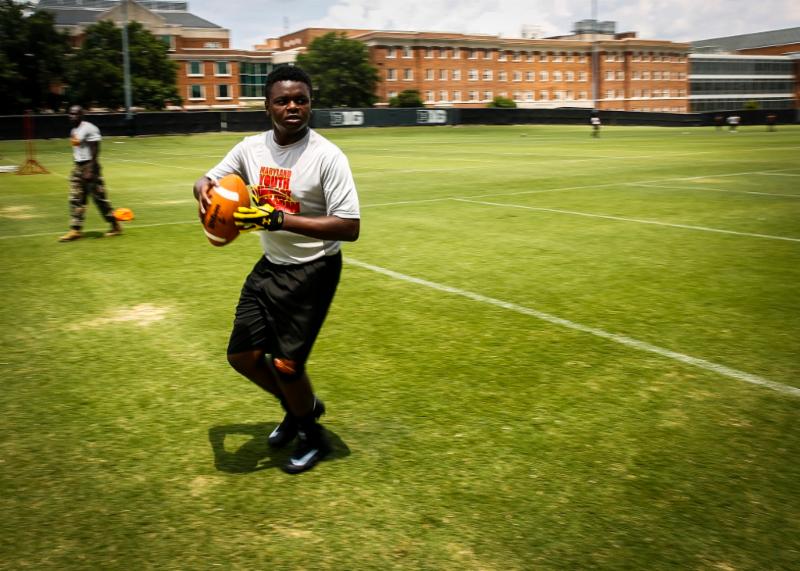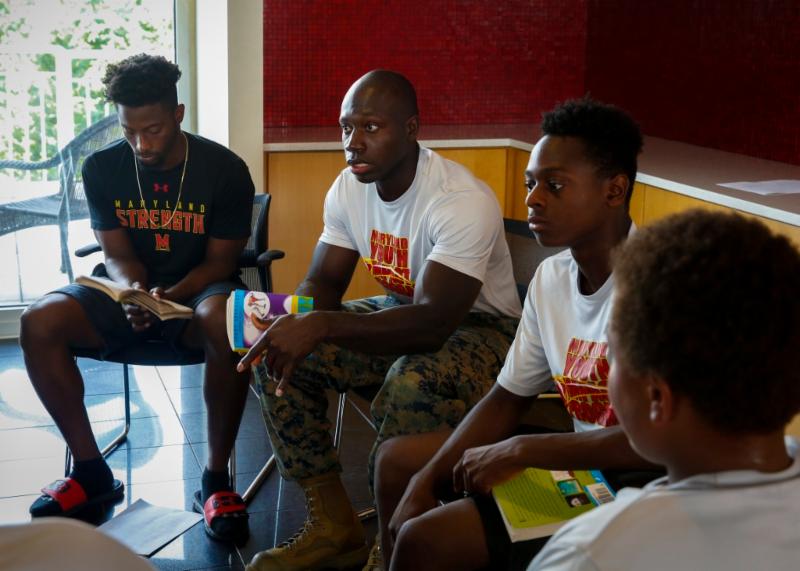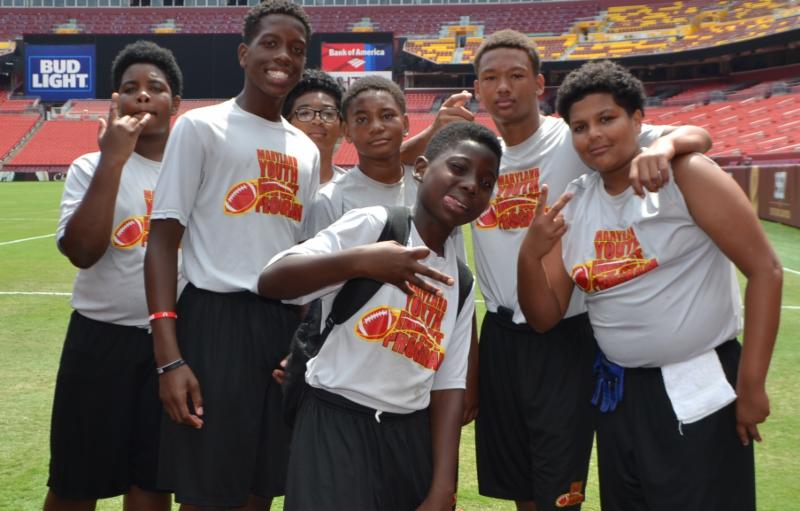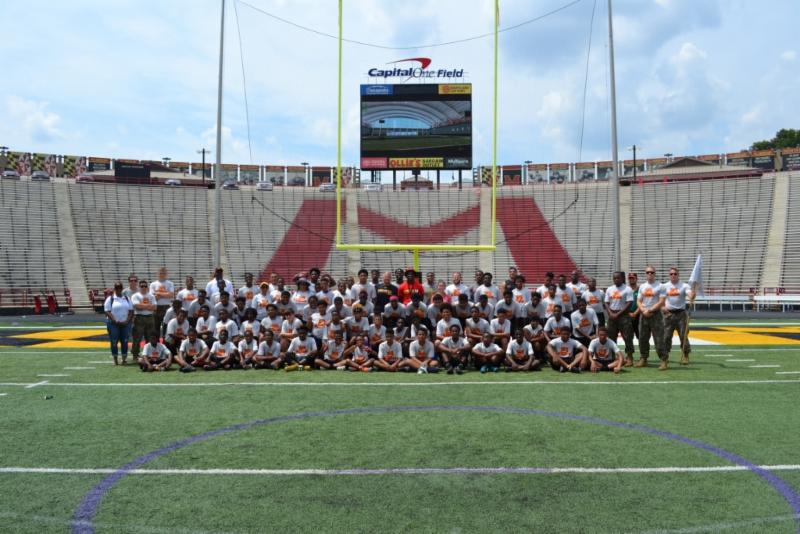 This Youth Impact Program is a reflection of the winning leadership of Head Coach
D.J. Durkin in his commitment to the community with his student-athletes, and
the staff of the Athletic Department of the University of Maryland, and the
United States Marines. They were the dream makers and igniters of hearts for
these boys are from the Washington D.C. Area.
Permanently Impacting Our Nation's At-Risk, Inner-City Youth