Skip to Content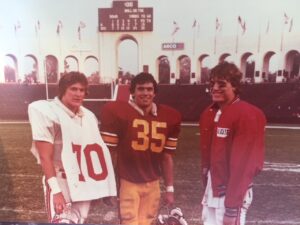 Thank you for giving us the Dream that we have seen come true. We were extremely grateful of our Champion Team that we created to implement this fantastic concept of positive impact upon our Youth in Tucson Arizona and everyone associated with it – especially the Airmen and women of the Davis-Monthan Air Force Base, the Student-Athletes and Staff of the University of Arizona, and our public school teachers of the Tucson and Amphitheater School Districts.
We had a wonderful experience in bringing our youth participants, our Airmen, and Airwomen, our University of Arizona Staff, and its Football Program with their Student-Athletes in unity to make a significant impact on the team as a whole and for the young youth that participated. It is leadership development, and trust development on all levels of our Youth Impact Program. One champion Arizona Team making our Community Better for the betterment of all.
We are aligned with the University of Arizona President, Robert "Bobby" Robbins and Head Coach Jedd Fisch and his program from the ground up which has come from a one-win season last year to winning three games already in the first month of the season. Winners associate with Winners to Win!
We keep bringing Winners to Arizona, to the Arizona Youth Impact Program, and to our Youth Impact Program. We are extremely honored to announce that Jim Krohn, my high school teammate from Amphitheater High School and our Quarterback that led us to the 1975 State Championship for Arizona and the Starting Quarterback for the University of Arizona leading the Wildcats as the Captain to the Fiesta Bowl in 1979 is a Board Member of the Youth Impact Program! We are bringing it!!!
An old picture of us after the game we played against each other with his brother and high school teammate Jerry whom we have given a memorial scholarship for him for 10 YIP youth in our University of Arizona YIP.
Bear Down and Dream Up with Jim Krohn
Permanently Impacting Our Nation's At-Risk, Inner-City Youth