Skip to Content
Rhett Ellison Spends the Day at Stanford YIP
On Friday, Rhett Ellison visited the Stanford YIP. The ex-mentor and current Minnesota Vikings TE/FB spent the day with our boys, sitting in on classes and sharing insights on his experiences growing up in the region, and the values of education and football in achieving success on and off the field. He took the time personally interacting with the participants and fielded questions ranging from his journey to the NFL to his draft-day emotions.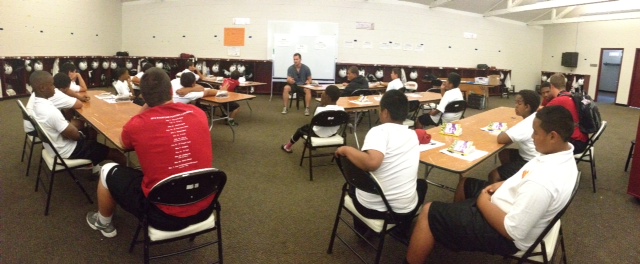 Official Press Release:
Friday, July 12, 2013
RHETT ELLISON SUPPORTS THE STANFORD YOUTH IMPACT PROGRAM
Portola Valley, Calif. native, and Minnesota Vikings tight end/fullback Rhett Ellison participated as a mentor in the Stanford Youth Impact Program (YIP) on July 12. Ellison, a 2012 4th Round pick of the Vikings, served as a guest speaker to discuss the importance of education and using football as a tool to achieve ultimate success both on and off the field. He also presented the organization with a personal donation to match the grant given by the NFL.
YIP is an innovative summer program that promotes positive development in low-income, urban-based, at-risk minority middle school male students between the ages of 10 and 14. The Stanford YIP kicked off on July 8 and will run until July 26, hosting more than 100 students and providing 60+ hours of classroom training and tutoring, field trips, and 20 hours of contact football and fitness training. YIP also provides meals and transportation for participants.
"Despite playing college football in southern California and now professionally in Minnesota, the Bay Area is still my home," said Ellison. "YIP is a tremendous program that goes far beyond football and teaches life skills and values such as a strong work ethic, discipline, and teamwork. To do this locally with an organization that truly supports personal growth, while incorporating the game of football, is a tremendous opportunity. I am grateful to be in a position to give back and share my experiences with these kids."
As a former USC Trojan, Ellison gained mentoring experience with YIP while he was a student in Los Angeles. He is the son of YIP Chairman and Founder Riki Ellison, a 3-time Super Bowl champion with the San Francisco 49ers. He has held the position of Chairman since its inception in 2003.
The Stanford YIP is supported by the NFL and USA Football and their Heads Up initiative. The program hired 12 current Stanford football players, five Stanford staff members, and four public school teachers. Dr. John York, Co-Chairman of the 49ers, and Dr. Condoleezza Rice, former U.S. Secretary of State and Stanford Professor are also participants in this year's program.
Permanently Impacting Our Nation's At-Risk, Inner-City Youth