Skip to Content
I'm Fired Up, You Fired Up
Dear Dream Makers and Friends: Our Youth Impact Program at the University of Hawaii is making transformational change!
In 2021, after three previous YIP camps from 2017-19, we rallied to conduct the first-ever 3-day YIP Mini-Camp held July 22-24, fueled by a burning desire to fully prepare the youth to excel during the upcoming school year. We burst into forwarding momentum, emerging from the unprecedented challenges posed by a global pandemic and social injustice issues with unyielding passion, determination, and grit to provide a power-packed program consisting of STEM-based activities, focus on being a great citizen, dynamic leadership, and character development as building blocks for success, along with challenging life skills and athletic competition, all to inspire and motivate our Youth to Dream Big!
We accomplished this through full engagement by the power and talent of a cohesive team of 35 'Winners,' mentors who lead by example while serving as role models for our Youth consisting of the University of Hawaii Student-Athletes, passionate DOE teachers, and America's finest in the form of US military personnel, spearheaded by University of Hawaii Army ROTC Warrior Battalion, US Army Soldiers from US Army Pacific and US Marines Hawaii. This combination of mentors resulted in a ratio of 1 Mentor for every 2 Youth, carefully orchestrated to achieve positive effects, instill values such as Respect, Personal Courage, and Honor to develop life skills through a display of love, dedication, and support. The commitment to our youth has galvanized the entire island community and brought us together as one with a shared purpose, a sacred promise, all in support of our youth with expectations and confidence they will rise as our next generation of leaders!
To make this happen, we received unified support from the entire community led by our state legislature, steadfast support from the Honolulu Mayor, visionary leadership from our University of Hawaii President, Athletic Director and support from our Rainbow Warrior Football program, along with a cluster of devoted sponsors, namely Roy Yamaguchi, who facilitated over 500 meals, to Sharon Brown, who spearheaded efforts with our donors to provide backpacks, school supplies, and water flasks to begin the school year. Another important aspect of our program is engagement with the families of our youth to reinforce the value-based life skills at home that YIP provides. Due to this level of comprehensive support, we far exceeded our expectations of what we thought we could do as a Pacific Island community four years ago, and now the first-ever Mini Camp, proving we are only getting better in changing young lives, especially the untapped potential in our Polynesian youth, the pride of our islands.
This year during the Mini Camp, a major development was the implementation of the Dream Card, a tool to codify each Youth's goals along with an Ethos designed to help achieve the goals, inspired by mentors and lessons learned throughout the camp. The Dream Card was signed by mentors, teachers, and teammates to create accountability, confidence, and motivation to excel as a result of the Camp's shared experiences. The Dream Cards were presented to each youth by the mentors during the closing ceremony along with a presentation of the 'Effort and Attitude' awards. These Dream Cards are so important because they give these young men something to help them accountable for them to attain their dreams.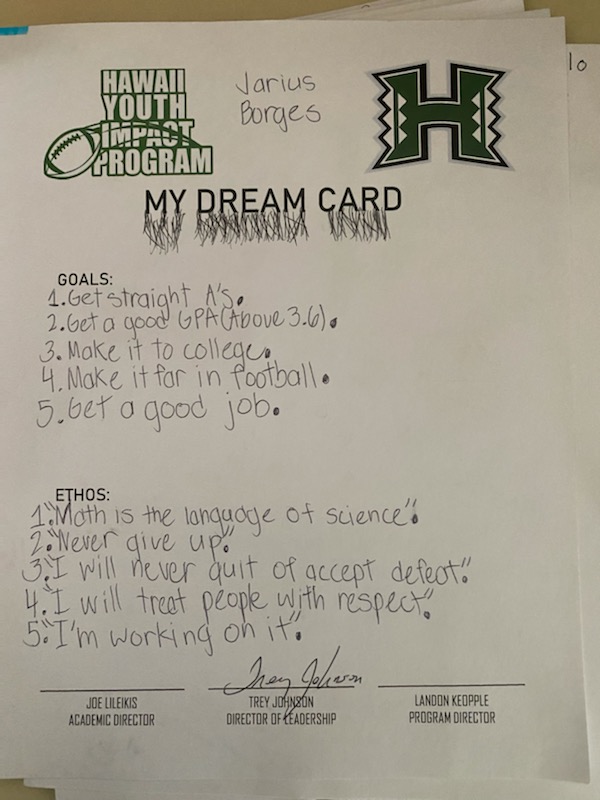 We shape our culture with the implementation of the leadership fundamentals captured in the YIP Ethos and Values, timeless and universal themes that transcend all socioeconomic factors to bring out the best in our Youth. This is recited numerous times daily with a sense of pride that became affirmations so critical in a young person's life when they face adversity and challenging decisions.
Yip Ethos: All In – I Make the Right Decision at the Right Time for the Right Reasons in Any and All Situations
I will always place the team first
I will never quit or accept defeat
I will always treat ALL people with Respect
I will always set an example for others to follow
YIP Values
Loyalty
Duty
Respect
Selfless Service
Honor
Integrity
Personal Courage
As a testimony of the life-changing impacts of our program, Skyden Hanisi, a previous two-time camper provided the following message to the Hawaii YIP Mini Camp participants. Skyden is from Waipahu and has recently overcome significant challenges and adversity to evolve as a role model as a student-athlete at Punahou School in Honolulu, Hawaii.
"To the campers, I apologize that I'm not able to attend the camp in person. Thank you all for attending this camp this year and don't forget to thank the ones who made all of this possible.
As another camp comes to an end, more dreams continue to grow. This camp will never just be football because it's more than that. It'll make the impossible seem possible, it'll make you have a different view on how you carry yourself, and most importantly it'll teach you important lessons that you may use at any stage in life. But in all, I hope you leave this camp better than you came in. I hope you know that you will always be able to defy the odds in any circumstance or situation you are in. And if you ever feel like giving up or losing hope in a dream just know there will always be someone out there depending on and rooting for you. Never let the situation you are in affect the outcome you can control. Thank you, campers, for bringing me inspiration and happiness in these trying times that I face, you dreamers continue to spread joy to all those older than you because you are all our future. I hope one day I can be a role model to you all and hopefully meet you guys. But enjoy the rest of the weekend and continue to make every moment count whether it's on or off the field." – Skyden H.
We also inspired and moved the mentors as we harvested our collective energies to impact our youth with the power of shared purpose leaving all involved with a life-changing experience. See below one of several texts we received from our mentors to our Program Director Trey Johnson:
"Thank you for giving us the opportunity to be a part of the program. It was an amazing and enlightening experience.
The Youth Impact Program made an impact not only on the youth but on us mentors and volunteers as well, especially myself. Seeing the kids transform from day 1 to Day 3 and them building camaraderie, resiliency, and respect towards one another is something I thought was not possible at first given the short amount of time. Seeing them play the sport they love is also a sight to behold, they were all very agile and athletic no matter the size and I was very impressed. I'm sure they all would make great leaders and professional athletes in the future.
Please keep me in mind, Mr. Johnson, for future volunteer opportunities. I would really like to make a difference together with you and your team. Thank you once again for the opportunity, sir. Stay safe and if there's anything I can do to help, please let me know."
Very Respectfully, SGT Sinsuat
We are all truly One Team – One Nation – One Island State – One Community – interconnected and working together to make a significant difference and positive impact on the community, the Island, and the world.
Permanently Impacting Our Nation's At-Risk, Inner-City Youth