Skip to Content
Below are the Michigan Youth Impact Program 2016 testing results. They show significant academic improvement for our participating young boys from Detroit.
Language Arts: 50.34%
Science: 22.54%
Math: 31.09%
Life Skills: 75.49%
Average Overall Growth= 45.86%
On the final day, our participants got to touch the banner.
Seeing Strides in Year Two of Youth Impact Program
July 22, 2016
By Steve Kornacki
ANN ARBOR, Mich.– Ian Bunting received a thank you card from a camper on the next-to-last day of the University of Michigan football team's Youth Impact Program, a combination of academics, tough love, and football for 100 at-risk boys bused in daily from Detroit over two weeks.
"Here," said Bunting, handing over the card. "This thank you note is an example of how these kids had a greater impact on me than I had on them."
The note read: "Thank you Coach Ian for dedicating your time and good advice. You have given me advice on how to let death in my family motivate me instead of getting down about it. Thanks again.
From,
Sergio Barnett"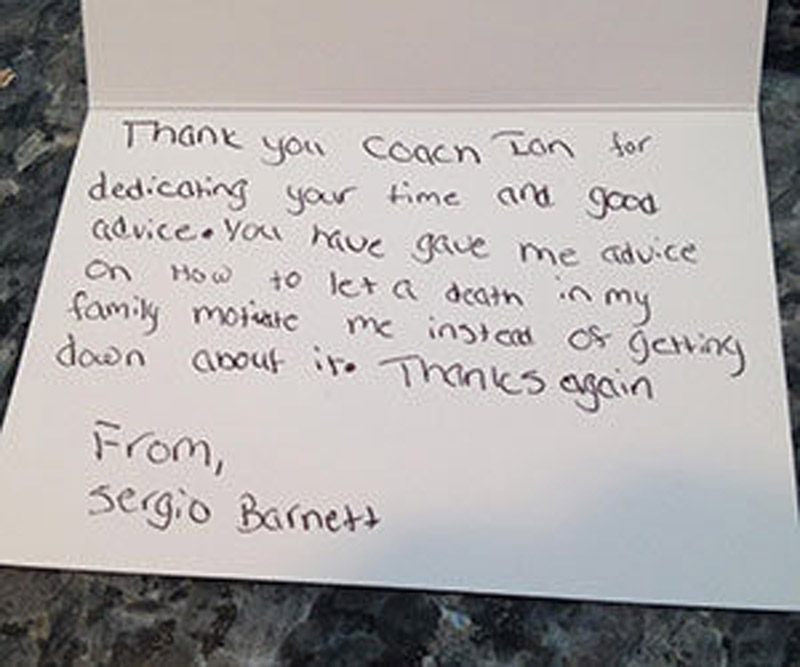 When the note was handed back to Bunting, a junior tight end from Hinsdale, Illinois, his eyes reflected gratitude and emotion. The big guy was clearly touched by a little guy he'd gotten to know and influence.
That connection was at the essence of the program, which concludes Friday (July 22) at Michigan Stadium. YIP founder and chairman Riki Ellison, a former NFL player, visited last year's initial camp run by the Wolverines. Ellison's innovative program partners with universities across the U.S. and their local NFL team. The Detroit Lions hosted a field trip for the Michigan campers at Ford Field.
According to the YIP website, the program aspires to "act as a catalyst to promote positive development in low-income, urban-based, at-risk middle school male athletes between the ages of 10 and 14 years old."
The campers were guests of the Wolverines.
"It's hopefully a life-changing experience for these children and will make a difference in our community," said Zach Eisendrath, the director of operations and communications for Coach Jim Harbaugh who also served as camp director. "It's also equally beneficial for our staff and student-athletes to go through this.
"We did an ice-breaker one day, and we asked them to stand up if they'd ever had someone shot in front of them. Half of the kids stood up. Then they were asked to stand up if they'd ever been approached by a gang, and half of the kids stood up. It's really heart-breaking stuff.
"Our hope is that when they go back to their communities, they can teach things to their peers and show that there is a way out of a difficult situation. Everyone goes through adversity, and it's how you face it that matters most. Ian's message one day to the campers was, 'If you can overcome adversity, you can overcome anything.' "
That's where Bunting connected with young Sergio.
"I lost my dad about a year and a half ago," said Bunting, whose father, Stephen, died of brain cancer on Feb. 18, 2015. "I gave a talk about that at the end one day, and kids came up to me and talked about that situation, where they'd gone through the same thing or something like that. I was able to connect with them because of that."
Bunting, like many of his teammates, plans to stay in the lives of the boys via text messages and phone calls.
"I built relationships with all the guys," said Bunting. "But a couple of guys, like Daniel Wynn, who came back from last year's group, was really into it and did so well in the classroom. It's cool to see them growing from last year and making an impact in their lives.
"The kids who came back for this year's camp were great. I saw a few of them at the Sound Mind Sound Body (Academy) camp in Detroit, and they ran up to me there and were excited about coming to this camp again."
Eisendrath said, "Two dozen kids returned this year and they are now remarkably different and more mature. They are mentors as well to the new kids. There were kids who were fighting every day last year who have become the leaders this year. They break up disagreements and show their peers how to act. That's pretty cool to see."
Daniel Wynn, 14, detailed his transition.
"Last year," said Daniel, "I didn't know what it was going to be like. I was excited to come to the University of Michigan. This year, I thought it was going to be the same, but I got a lot of self-awareness and respect from everybody. People called me a leader, and it's good to have that recognition. It's an honor to be here."
He plays tight end and defensive end for a youth league team in Detroit and learned about the game he loves as well as life and academics. Daniel noted that Bunting helped him in every area and "greeted me with a smile on his face" each day.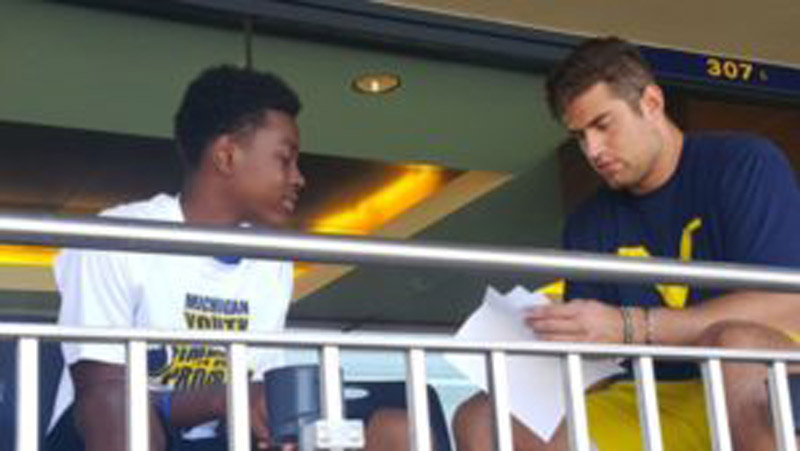 When told that Bunting said he got more from campers like him than he gave himself, Daniel smiled and said, "I would say so." They got comfortable enough to kid one another, too.
Daniel said he bonded with nearly everyone who worked the camp.
Shari Acho served as the academic director, while Joe Hastings was the football director. The entire rising sophomore class and four juniors led five different teams of boys. Six U.S. Marines from the Selfridge Air National Guard Base in Harrison Township, Michigan, contributed lessons and discipline, and four Detroit Public Schools teachers taught math, life skills, science, and reading.
Eight football players participated in every minute of the camp: sophomores Tyree Kinnel, Karan Higdon, Zach Gentry, and Grant Perry and juniors Jared Wangler, Andrew Robinson, Maurice Ways, and Bunting. Eisendrath said they received class credit, and noted that three Wolverines letterwinners now pursuing post-graduate degrees in Michigan's School of Social Work also assisted Acho and worked with campers. Softball pitcher Sara Driesenga, football cornerback Delonte Hollowell, and swimmer Kayla Douglas were central to the YIP mission.
"I didn't know what to expect doing this the first time," said Perry, a receiver from Bloomfield Hills (Michigan) Brother Rice. "But being with them hours on end every day, you can really see what they're going through. I made some great friends with these little guys and a couple of them already are texting me.
"On the first day with our team, Ballplayers, things weren't going so well. It wasn't clicking, but on the second day they all got together, huddled up, and said some words, and they all got it. They got the chemistry and rhythm. I got a Block M from the kids on which they signed it and said some really nice things to me. They look up to me, and that means a lot. I'm going to miss seeing these guys next week, and I also took in a lot from these Marines we're working with."
Ways, a receiver from Detroit Country Day, said he pointed out to the campers that he didn't play football until his junior year after focusing on basketball. He noted that he "really had to work hard" to get noticed and get to Michigan.
He told campers, "If you want it, go get it."
"If I could use one word to describe it," said Ways, "it's been a blessing to me. I've been able to give back to these kids and get back from them as well. I've been able to affect their lives like a big brother, and they affected my life as well. These kids had to grow up fast, and they taught me that you have to find a way to survive. Some of them are homeless and they have to earn everything. They made me grateful for what I have from what my parents and family instilled in me.
"I've stressed to them that they have to have perseverance, a routine, and discipline. Life is bigger than football; you have to have academics as well; you need to be a good person; you need to stay out of trouble. I was here for the camp last year, too, and one of the returning kids told me, 'I took what you said to heart. I stopped hanging with some of my friends and moved into my grandma's house. I stopped fighting and I stopped being trouble at school.'
"Things like that make my heart happy because they actually listened. That's why this has been a blessing."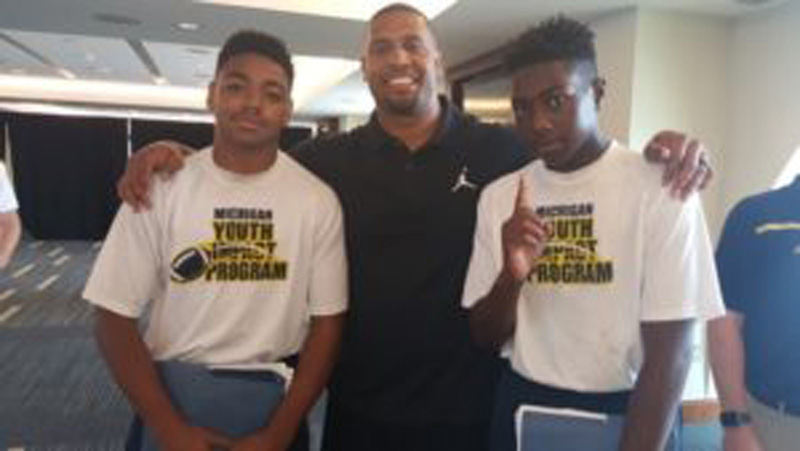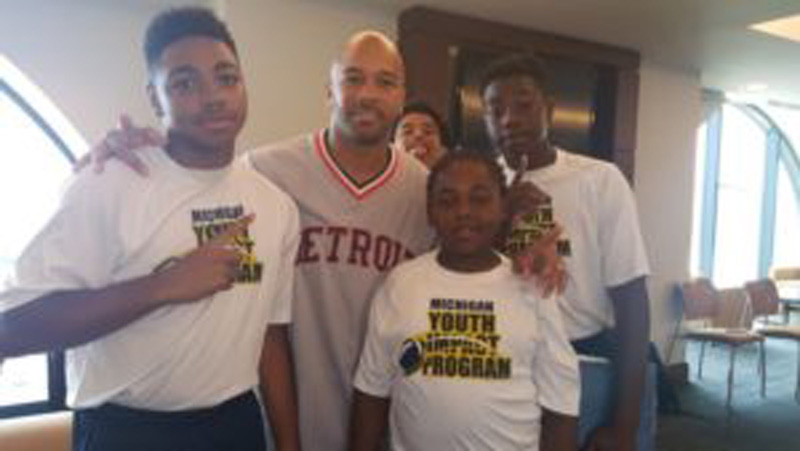 Guest speakers also addressed campers each day during lunch hour, and included former Wolverine football stars Braylon Edwards, Larry Foote, Harlan Huckleby, Jerome Jackson, and LaMarr Woodley; senior tight end Jake Butt; former basketball stars Jimmy King and Jordan Morgan; and Jack Harbaugh, father of the head coach and a former college coach.
Foote and Woodley, who won a Super Bowl together as Pittsburgh Steelers by defeating the Arizona Cardinals, 27-23, in Tampa, Florida, on Feb. 1, 2009, sat side-by-side Thursday (July 21) to address campers sitting on the carpeted floor in front of them.
"(Foote) doesn't want y'all to make the same mistakes he did," Woodley told the young boys. "I don't want y'all to make the same mistakes I did. And that's why we're telling you these stories and sharing these things with you. We've been there, done that."
He pointed out that Foote played 13 years in the NFL before becoming the inside linebackers coach of the Arizona Cardinals last season, adding, "Look at him now! A great guy, from Detroit, and a guy I've learned from." Woodley was a Cardinal in 2015.
Woodley, a free agent outside linebacker after 10 seasons in the NFL, stressed that campers must take what they've learned at Michigan back to Detroit.
"Become a leader — not a follower," Woodley said. "Put yourself around somebody who is going to do something with their life. Continue to work hard, and apply what you can apply."
Woodley told me he would like to make a mini-version of YIP to his hometown of Saginaw for a two-day program. He was inspired by how well their messages were received.
"They were taking it in," said Woodley, adding that he's finishing a master's degree in sports management. "I always look in the eyes and read the eyes, and they were taking it in. A couple of the guys came up to me after and said, 'Man that really helped out.' It was quiet in here, and it was serious."
Foote cut to the chase, asking the campers how many of them had gotten high. The campers put their heads on swivels, looking around at one another, as a few hands were reluctantly raised.
"Right now," Foote said of drugs and alcohol, "that's just a baby monster. Kill it right now! Don't feed that monster. Right now, it's a baby monster. But feed it, and it will take over your life. Kill that monster or it will kill you."
Foote mentioned an NFL player who "lost 50 million dollars" and his career because he caved to that "monster" ruler.
Between them, Woodley and Foote made 1,029 tackles and 83 sacks in 23 seasons of NFL play. They thrived in football because they were able to get their lives and academics in order, and are living proof of the camp's central theme.
"Football is a reward at this camp," said Eisendrath. "If you take care of your academics, and treat people the right way, football is your reward in the afternoon. At the end of the day, this camp is about building character."
Permanently Impacting Our Nation's At-Risk, Inner-City Youth