Skip to Content

We are going to Big Blue, Ann Arbor Michigan Blue in Detroit City to make a Positive Impact in developing our youth to make Detroit better! We are very honored to announce the 2020 Michigan Youth Impact Program this summer, our 6th Youth Impact Program for ten straight days from June 19th – June 28th, 2020. Head Football Coach, Jim Harbaugh, and the Student-Athletes of the University of Michigan along with the Marines and some of the best Public School Teachers of Detroit will be led by one of Michigan YIP's own and former Michigan Student-Athlete, Chris Bryant.
We are excited and thrilled to bring this tremendous opportunity with one of the Nation's great Academic Institutions to enable new paths of careers, academic passion, and courage of leadership to dream big and be big in the love and support of the community, the city and the team your on in life. Winners Associate with Winners to Win!
Dreaming Blue and Going Blue!
GO DETROIT! GO MICHIGAN YIP!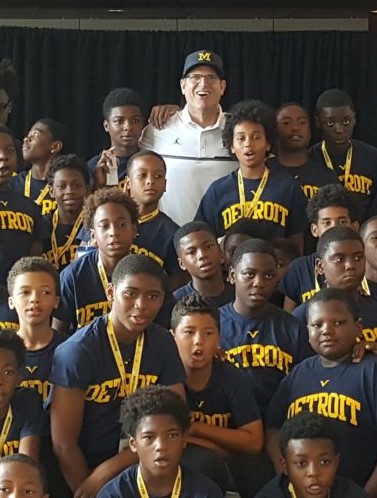 Permanently Impacting Our Nation's At-Risk, Inner-City Youth