Skip to Content
2022 Arizona and Hawaii YIP Draft Night
Dear Dream Makers,
We launched the 2022 Arizona and Hawaii Youth Impact Programs (YIP) with Draft Night in DREAM MAKER fashion on June 9!
These two programs returned bigger and better than ever representing the only YIP programs who stood strong to execute in 2021 despite the challenges of a global pandemic and social unrest.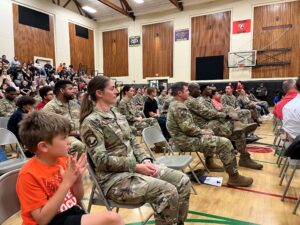 2022 Arizona Draft Night at Amphitheater Middle School
YIP Draft Night replicates a national letter of intent signing day for the youth participant as they are recognized in front of their family. Draft Night represents a formal commitment by the Youth Impact Program to provide a life-altering, transformational program for at-risk youth to provide access, exposure, and to develop positive-growth, character and leader development and discipline for application of core values in daily life, for better decision-making, and to boost academic achievement and confidence.
In return, YIP seeks commitment from the participating YIP youth and their families to do their best, provide 100% effort and a positive attitude as represented by the signing of the YIP Letter of Commitment.

  Tucson Amphitheater Middle School, Arizona YIP Program
In Tucson at Amphitheater Middle School, Arizona YIP Program Director Syndric 'Step' Steptoe fondly recalled his signing of a national letter of intent to play football for the Arizona Wildcats while hosting Draft Night of the second annual Arizona Youth Impact Program. The program will feature 43 mentors – 25 Airmen from Davis Monthan Air Force Base and 18 NCAA student athletes from the Wildcat football team. Hand select local teachers will also serve as counselors for the educational portion of the YIP.
Steptoe, who played at UA from 2003-06, created a signing party at Amphitheater Middle School on Thursday for camp participants to simulate the emotions of signing to become a student-athlete.
"They signed for 'This is what I'm committing to for the next two weeks,'" Steptoe said. "It was a big deal for, so being able to emulate that opportunity or type of program, we're teaching these kids the importance of signing an NLI. But more importantly, we want to show them the importance of going to college. That's what this is about at the end of the day."
Arizona head coach Jedd Fisch, who spoke to campers on Thursday before the signing party, became familiarized with the Youth Impact Program in 2016, when he was an assistant under Jim Harbaugh at Michigan.
"I saw how impactful it was and how awesome it was to team up with the military and help kids that might not be as privileged as others," Fisch said. "Then, to be able to do it last year during COVID, we were able to keep them safe, and our players loved it. My hope is to do it every year and make Arizona home base for it."
Each day during the camp will begin promptly at 8 a.m. with breakfast and the academic portion until noon. For an hour, the campers will disperse into a "leadership development session." Paul Dias, who owns 14 McDonald's in Tucson, is contributing lunch for the camp. From 1-3 p.m., the student-athletes will then have football training.
"We keep them engaged through academics, then we get to the football part later," Steptoe said. Fisch will implement "R.A.I.S.E.", the five program values emblazoned inside every UA football facility, which stands for respect, accountability, innovation, selflessness and enthusiasm.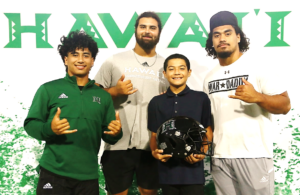 2022 Hawaii Youth Impact Program Draft Night
In Hawaii, the 2022 Hawaii YIP conducted Draft Night on an illustrious Pacific evening at the University of Hawaii campus at TC Ching Field, with over 100 youth and 250 family members to announce its fifth year but now under the direction of new Rainbow Warriors Head Coach Timmy Chang. The majority of the youth are from the communities of Waianae, Nanakuli, Waipahu, Ewa Beach, Kalihi and Waimanalo.

The event was electric with representation of hand selected DOE teachers who will lead STEM based academics, and the Mentor team consisting of 16 US Army and Marines combined with UH Army ROTC who will lead the life skills, character and leadership development, and 23 NCAA student athletes from the Rainbow Warrior football team for athletic competition. This team will actively engage with the youth to provide an unforgettable experience in preparation for high achievement.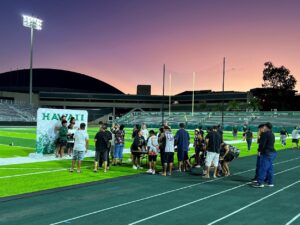 2022 Hawaii Youth Impact Program Draft Night at TC Ching Field on University of Hawaii
We are a national program with a sacred mission to provide life-changing impacts on our Youth and produce the next generation of leaders, we associate with leaders to lead.
We lead by action as we make a formal commitment to our at risk youth at a time never more important for our Nation's future.
Be the Dream! Live the Dream!

Riki Ellison
Founder and Chairman
Youth Impact Program
515 King Street, Suite 330
Alexandria, VA 22314
Permanently Impacting Our Nation's At-Risk, Inner-City Youth