Skip to Content
Youth Impact Program at University of Hawaii 2021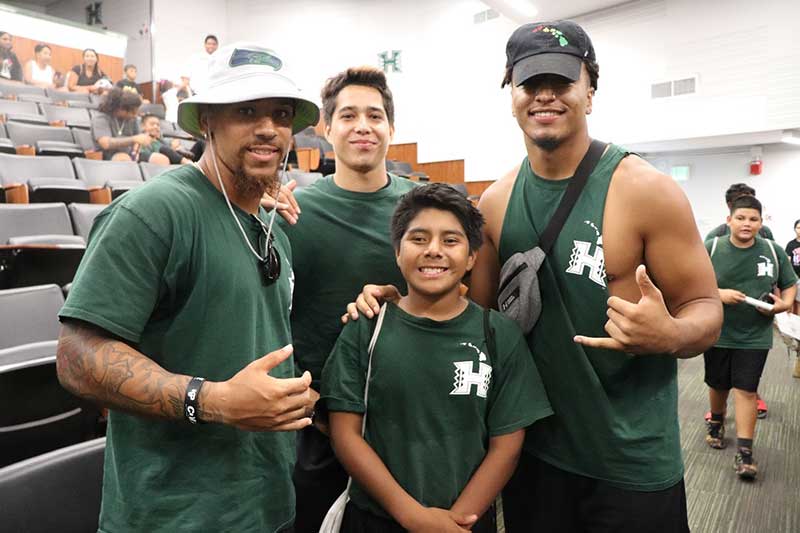 Dates: July 22-24 2021
Location: the University of Hawaii at Manoa
This will be a 3 consecutive day mini program.
Participants learn valuable skills that foster Character Development and Academic Enhancement. The program is FREE to participants providing them with two meals a day (breakfast/lunch), bottled water, transportation to and from the University of Hawaii, equipment, backpacks, supplies, two uniforms, field trips, and access to the university campus.
Overview
– The University of Hawaii Rainbow Warrior Football Program is proud to announce it will host the return of the Hawaii Youth Impact Program (YIP) in 2021 in a new format, the first-ever 3-day 'Mini-Camp' on July 22nd, 23rd, and 24th!
– The Mini-Camp is designed to propel our community forward stronger than ever as a demonstration of resilience by enabling our Youth to overcome the significant and unique challenges imposed by the COVID-19 pandemic and social challenges.
– This transformational leadership development program prepares at-risk middle-school-aged males from economically disadvantaged areas for success during the upcoming school year with a focus on a positive, growth mindset and a better understanding of character, discipline for application of core values in daily life, to shape better decision-making, and to boost their achievement and level of success.
Hawaii YIP Mini-Camp Highlights:
– Academic Enhancement through dynamic, STEM-based activities to foster appreciation and inspiration in cutting-edge technology along with exciting career opportunities!
– Powerful educational events to assist our youth process complicated issues associated with COVID and social issues for a productive, positive mindset.
– Leader and character development through challenging team-building events focused on 'full effort and positive attitude' to unlock their potential in leadership, life skills and instill foundational values for immediate and long-term success.
– Fitness and athletic development to build confidence for healthy competition along with education on the importance of nutrition and fitness.
– A primary goal is to inspire and unlock the self-confidence and leadership potential in our Youth as the next generation of leaders in our community!
Thank you to our Sponsors & Supporters
For which our program would not have been made possible without your help:
First Hawaiian BankAlexander & BaldwinThe Mills GroupRobert's HawaiiHalm's Enterprise, Keoki's Laulau and Diamond Head SeafoodHawaii Lodging and Tourism AssociationMufi HannemannIsland Insurance CompaniesOffice DepotMarcus Mariota Foundation: Motiv8Eating House 1849Zippy'sDuke's WaikkiMW RestaurantPancakes and WafflesSodexoTiki's Grill and BarHawaii Volcanic WaterLaulima FoundationChef Roy Yamaguchi
Hawaii Youth Impact Program
Permanently Impacting Our Nation's At-Risk, Inner-City Youth