Skip to Content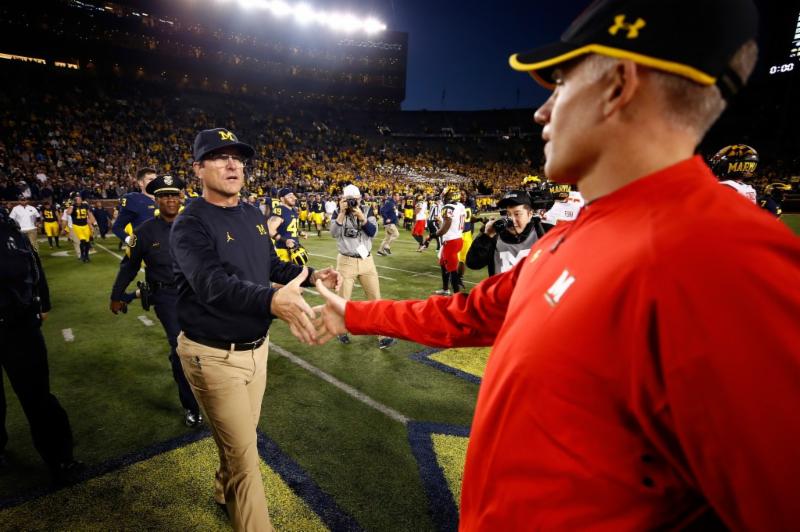 Maryland Coach DJ Durkin shakes hands after the game with his former boss, Michigan Coach Jim Harbaugh. (Gregory Shamus Getty Images)
The leadership of impact, change, direction, and greatness is ingrained in Head Coach Jim Harbaugh of the undefeated 9-0 Michigan Wolverines and in Head Coach DJ Durkin of the University of Maryland 5-4 Terrapins who was under Jim Harbaugh last year. Both Head Coaches have embedded their players into leadership development at the core through the essence of our youth impact program hosted in their facilities with their staff and student-athletes. Their successful leadership on the field reflects directly upon skills developed, challenges overcome, relationships built and lifetime impact they placed upon the hundreds of young "at-risk" youth they lead this past summer. They are winners and they are building winners.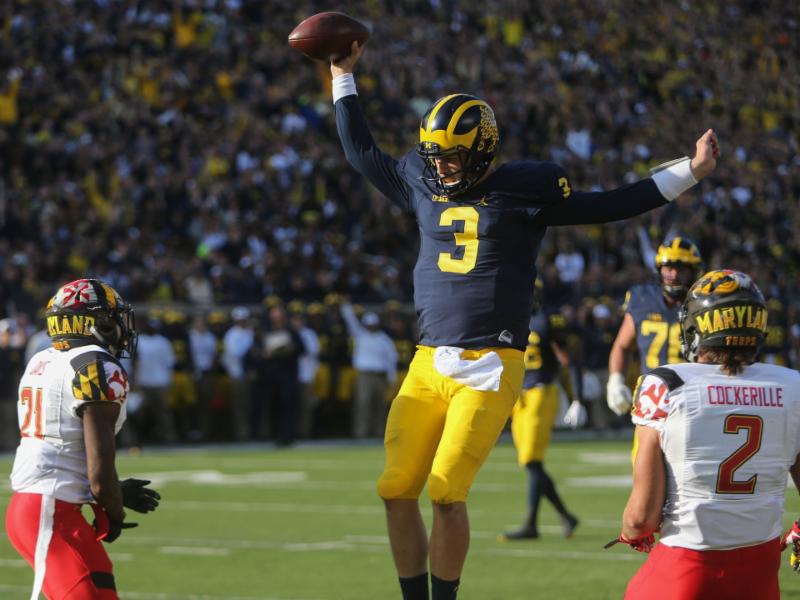 Michigan Wolverines and YIP Student-Athlete Wilton Speight scores a touchdown (Kirthmon F. Dozier DFP)
It was quite the showdown to watch our two YIP universities, Maryland and Michigan, take the field last Saturday.
It was inspirational to watch the development of the players of the two programs this past Saturday to see the maturity of champion leadership of Michigan versus the beginnings of establishing a leadership culture with Maryland. We too look at our youth programs out of Detroit and Maryland/DC reflecting these two coaches' cultures and are extremely appreciative and fortunate to them both for their awareness of their communities and to make concerted effort to make them better.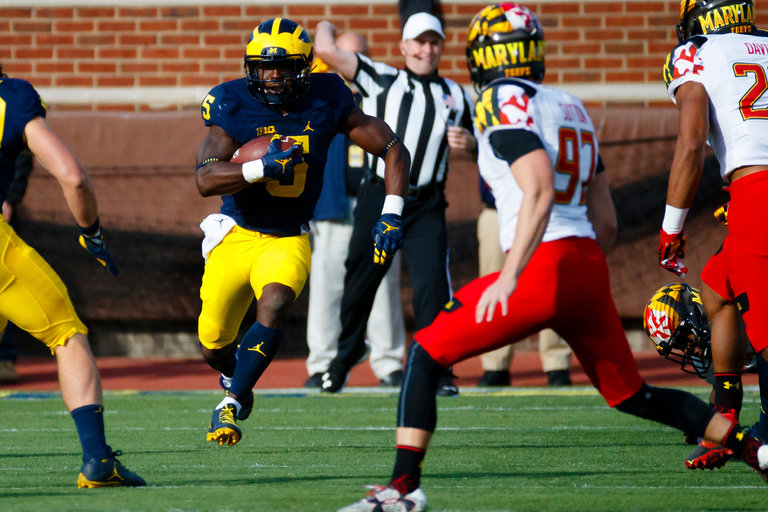 Jabrill Peppers a current Heisman Trophy candidate for the best college football player in the nation came from the same place our "at-risk" boys of our Michigan YIP program and lead them with passion, convection and heart as he was one with them in making tremendous bounds in skills to be a leader and achiever against the odds, the environment, and challenges that all have and share in common.
Michigan's graduate school of social work has provided four graduate students to focus, study and engage on measurement, impact, and development of the year-round programming of our at-risk youth in Detroit, Michigan. They will set the educational understanding and best practices learned for the University of Maryland Youth Impact program and all of our participating programs.
Be part of something Big! We are something Big!
Permanently Impacting Our Nation's At-Risk, Inner-City Youth