Skip to Content
Winners Associate with Winners to Win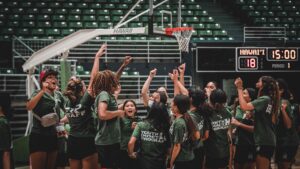 Head Coach Laura Beeman and the University of Hawaii Rainbow Wahine Basketball team have won the Big West Championship by beating UC Santa Barbara with a last-second three-pointer, taking the lead (61-59) earning them the championship. This team and Head Coach Laura Beeman with her Woman's basketball student-athletes instilled the will to win and ran the first-ever Youth Impact Program for the girls this past summer at the University of Hawaii.
The Rainbow Wahine Basketball team's ethos, hard work, belief in the team, and never quit mentality won the championship. The Rainbow Wahine found themselves down 15 points at halftime, a deficit that lasted midway through the third quarter. Their defense held firm, and they outscored the Gauchos 38-21 the rest of the way, which led to their Big West championship and punching their winning ticket to the NCAA tournament. Tune in on the 17th of March to watch #14 Bows vs #3 LSU Tigers face off
Congratulations and much Aloha to the University of Hawaii women's basketball team for being absolute role models of character, leadership, and excellence to all of the at-risk young girls from Hawaii that they mentored, inspired, and loved this past Summer and for winning the Big West Championship and earning a spot in the NCAA tournament! These are remarkable achievements and testaments to Coach Beeman's leadership, vision, and belief in the players, coaches, and staff.
Winners associate with Winners to Win!
Go Bows!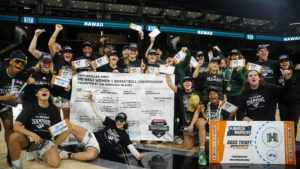 https://www.instagram.com/reel/CprM0BLj2gM/?igshid=YmMyMTA2M2Y=
https://www.instagram.com/reel/CpqfDVADqI8/?igshid=YmMyMTA2M2Y=
Permanently Impacting Our Nation's At-Risk, Inner-City Youth