Skip to Content
NATION'S FIRST YOUTH IMPACT PROGRAM FOR GIRLS
NATION'S FIRST YOUTH IMPACT PROGRAM FOR GIRLS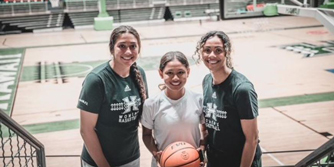 Nation's First Youth Impact Program for Girls
Draft Night at 2022 Hawaii YIP for Girls at Stan Sherriff Center on July 13
Dear Dreamers and Dream Makers,
What a Night! The Nation's first-ever Youth Impact Program for Girls led by the University of Hawaii Rainbow Wahine Basketball Head Coach Laura Beeman launched its historic inaugural program in a truly magical atmosphere at Draft Night on July 13 in the Stan Sherriff Center.
Coach Beeman announced with tremendous passion and enthusiasm her pride in being the first to offer life changing programs to young ladies in conjunction with the 50th anniversary of Title IX, the landmark legislation born in Hawaii that leveled the playing field for female student-athletes to attain college scholarship opportunities which changed the lives of so many across our country.
"Exposure, laying foundations and opportunity is what this is about!" "Saying to each of these young ladies to go back to your schools and be great leaders in your classrooms."
For the first time in its 18-year history in 2006, YIP tailored its curriculum for girls to offer the same transformational leadership development program to benefit at-risk middle school age students from economically disadvantaged neighborhoods in Hawaii.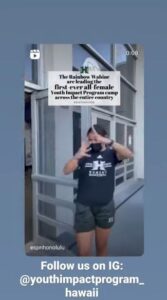 https://www.youtube.com/watch?v=Gj-iNxZTGrI&t=9s
Draft Night at Hawaii YIP for Girls with the Rainbow Wahine Basketball Team
The goal is to provide a comprehensive life skills program tailored for Girls founded on integration of STEM academics, leadership fundamentals, and sports excellence with a strategy to implement a 'connected' curriculum, blending special topics for Girls selected by Coach Beeman, combined with our transformational leadership core to foster a greater understanding of the YIP Ethos, seven YIP values (words of the day) led by our cadre of Army and Marine mentors and Student Athletes, inclusion of the Preamble, ultimately leading to a personalized DREAM CARD that captures all the above and presented to each student at Graduation. Making Dreams come True!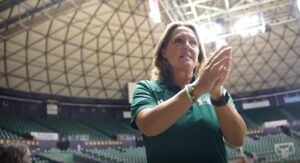 https://www.youtube.com/watch?v=j3PgJpn97r8
"Hawaii Youth Impact Program for Girls is here to stay!" – Coach Laura Beeman

Hawaii YIP for Girls Letter of Commitment
We are excited to begin this exciting new chapter in YIP history to make a tremendous positive impact on the lives of our Girl Youth as YIP's commitment to inclusion, access and equality.

We are motivated and honored to develop the next generation of female leaders as true Game Changers and Decision Makers that will best serve our communities and Nation!
Live the Dream! Be The Dream! Give the Dream!

Riki Ellison
Founder and Chairman
Youth Impact Program
515 King Street, Suite 330
Alexandria, VA 22314
https://www.youthimpactprogram.org/donate/
Permanently Impacting Our Nation's At-Risk, Inner-City Youth