Skip to Content
Jim Harbaugh, Michigan Jointly Announce Youth Impact Program to Benefit Detroit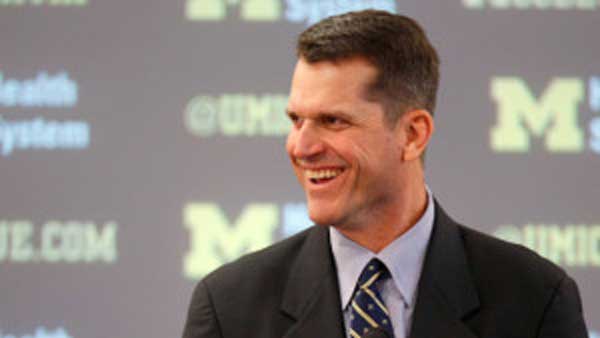 NBC Sports:
Continuing the offseason theme of keeping Jim Harbaugh constantly in the news, the Wolverines' new coach and Michigan's football program announced Thursday plans for a "Youth Impact Program" to benefit on youngsters in the city of Detroit.
"We are excited to have our football program working and associated with the Youth Impact Program," Harbaugh said in a statement, via MLive. "This will be a tremendous growth opportunity for the youngsters participating in this program. It will also provide an opportunity for our student-athletes to learn valuable leadership skills as mentors, coaches and teachers."
The Wolverines aren't so much as creating a new program as they are linking up with Riki Ellison, who runs similar programs in Palo Alto, Evanston and West Point. Harbaugh, his assistants and sophomore Michigan football players will team with the United States Marine Corps to teach 100 middle school boys life a STEM-based curriculum consisting of life skills, language arts and, of course, football.
In other words, expect lots of Bo Schembechler teachings to be bestowed upon a group of people who have likely never heard of the man.
"The impact on inner city at-risk youth in Detroit by Michigan Football, the student-athletes participating and the University of Michigan with Jim Harbaugh will be significant," said Ellison. "It is a great opportunity for these young boys to change direction with leadership skills, trust and love for the University of Michigan that will make a difference in the Detroit community."
Permanently Impacting Our Nation's At-Risk, Inner-City Youth