Skip to Content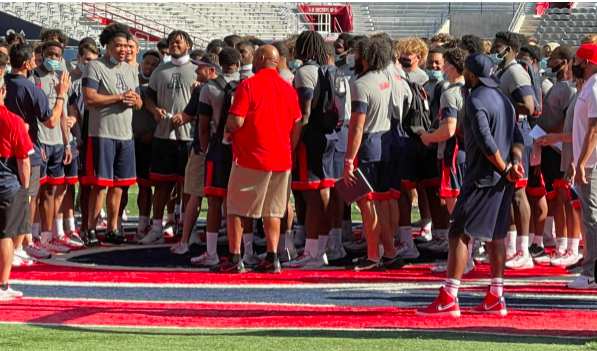 Dear Dream Makers and Friends of YIP,
In the spirit of enacting positive change and social justice in various inner-city communities across our great nation, we are honored to announce the opening of our 38th Youth Impact Program in Tucson, Arizona. The inaugural University of Arizona Youth Impact Program will begin on June 14th and commence on June 25th. We are honored to announce our partnership with the University of Arizona, the United States Air Force, and the Amphitheater, Sunnyside, and Tucson Unified School districts.
The Youth Impact Program (YIP) combines leadership, character development, STEM academics, and athletics in an empowering and enriching environment to change the life trajectory of vulnerable youth in our nation. By creating the conditions to trust, excel and learn in a safe and supportive setting, these students are able to foster a sense of self-awareness, confidence, community, and leadership skills that will propel them in becoming impactful citizens in their communities.
Previous YIP programs have yielded meaningful results in all areas, especially academics. Since the implementation of YIP in 2006, students have shown an average increase of 21% in math test scores, 26% in English composition, 23% in reading and vocabulary, and 40% in science. From parent surveys, our programs have direct correlations of impact on leadership, taught in the programs, with improvement in school, improvement in personal responsibility, and life skills of their children. Social change begins in the communities that require it the most, and by providing these students with the right tools and the accessibility to institutions and people in their community to flourish in their future endeavors, we are enacting change in these communities, one young person at a time.
With this vision in mind, Riki Ellison, a former Tucson Amphitheater High School Graduate and three-time Super Bowl winner with the San Francisco 49ers started The Youth Impact Program in 2006. Mr. Ellison saw the necessity for change from his former school district, as Amphitheater School District is at the lowest economic level, with over 90% of its students receiving free school lunches. Mr. Ellison cites Tucson as the place where many of his and his classmates' dreams were made true and is passionate about providing other young men in the area with the resources, relationships, and trust they require to make their dreams a reality.
Founder Riki Ellison said, "We are breaking ground and bringing them access to universities and places they've never been before… we've got participants getting academic scholarships to universities. Our visions and our movement are so important right now. As our nation goes through COVID, recovery is the turning point of our nation, and it has to start in those communities with those leaders."
The University of Arizona Youth Impact Program is community funded as prominent businesses and community-responsive leaders are supporting this nexus of impact together. These include Raytheon Technologies, Tucson Conquistadors, Krohn Family Foundation, NOVA Home Loans, and Delta Chi as well as former U of A Alumni, Amphitheater Graduates, and citizen leaders.
We are emphatic in passion and honor to bring this impactful program to Tucson where our dreams were made and surrounded by dream makers of this great community of Tucson Arizona to make our at-risk Tucson youth dreams happen.
One Team! One Community!
It's Personal!
Permanently Impacting Our Nation's At-Risk, Inner-City Youth