Skip to Content
INCLUSION, EQUALITY, AND OPPORTUNITY
GROUNDBREAKING SUCCESS FOR NATION'S FIRST YOUTH IMPACT PROGRAM
 FOR GIRLS IN HAWAII SETS THE STANDARD!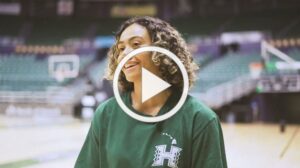 Nation's First Youth Impact Program for Girls in Hawaii video 
Dear Dreamers and Dream Makers,

The Youth Impact Program achieved groundbreaking success in Hawaii following implementation of the Nation's first YIP for Girls, July 15-23!

The 2022 Hawaii Youth Impact Program for Girls led by Rainbow Wahine Head Basketball Coach Laura Beeman represents the most significant achievement in YIP's 18-year history in its mission to provide Inclusion, Equality and Opportunity to our Nation's disadvantaged, at-risk youth – the first YIP program for Girls!

Since 2006, following 43 YIP programs impacting over 3600 Youth conducted in 16 inner cities and 15 prominent universities throughout the United States, YIP created a 44th YIP program specifically for young ladies in conjunction with the 50th year anniversary of Title IX. This game changing legislation originated in Hawaii that changed the landscape in terms of equality to provide unprecedented access to scholarships and opportunities for female student athletes throughout our country for the past five decades!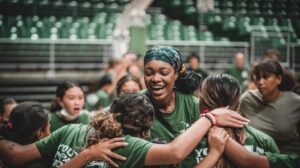 Inclusion and sense of purpose are keys to unlock confidence, self-esteem, and leadership
potential in every participating Girl through positive engagement with YIP Mentors
The Nation's first-ever YIP for Girls incorporated a new, innovative, cutting-edge curriculum crafted and tailored specifically for young ladies. The program is developed with focus on 'connection' of the three major components consisting of STEM based academics, character and leadership development, and nutrition and athletics. In addition, a field trip 'Pearl Harbor Experience' was integrated as an educational STEM career exploration event to inspire interest in aerospace, maritime, and high-tech career opportunities while visiting Hawaii's military historic sites and innovation centers.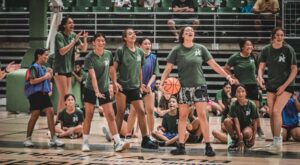 Competition, teamwork, and sportsmanship are YIP core fundamentals instilled by
Big West Champion Rainbow Wahine Basketball student athletes 
To complement the three-part academic curriculum, the University of Hawaii Rainbow Wahine Head Coach Laura Beeman selected nine special topics such as positive social interaction, improv, and mental health provided by exceptional female role models as guest speakers to inspire, educate and inform young ladies, such as Army Major General (Ret) Suzy Vares-Lum, first female General Officer commissioned from the University of Hawaii Army ROTC program, now the President of East West Center.
The special activities and speakers were integrated to complement and connect with leadership fundamentals designed to foster a greater understanding of the YIP Ethos, seven YIP core values for application in daily life, ultimately leading to development of a personalized DREAM CARD that captures life goals and lessons learned, and signed by mentors and classmates for presentation to each participant at Graduation.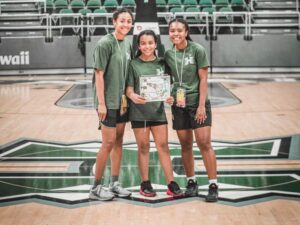 Dream Card at Graduation represents life goals and lessons learned through shared
experiences with Mentors, role models, and fellow youth participants representing the next generation of leaders 
Through positive engagement, circles of trust are formed as the foundation for relationships and communication which facilitate influence and ability to reach the Girls for meaningful discussion and goal setting. This approach inspires and allows young minds to open up to consider new and limitless possibilities. Realization that being part of and contributing to something bigger for the betterment of their families and community is motivating. As a result, confidence rises resulting in increases in academics:

Academic Results 

English: 45% increase

Math: 22% increase

Science: 36% increase

Parents of youth participants were surveyed and 100% of respondents reported the program had positive impacts on their daughters.

Parent's comments:

"The program was a blessing for our daughter. She benefitted from the experience in a number of ways. First, she relished the chance to hear directly from the Wahine players on what it takes to be a champion, from school to practice…The field trip, the academics, the yoga were all nice added activities that really exposed the girls to new things in new settings.

"Loved watching the draft night unfold and see each girl get celebrated and cheered for being nothing more than who they are. You took them in as they were and celebrated them and then worked on them over the next 10 days to grow them into a better version of themselves. Finally watching them on graduation Saturday compete and play against each other all while laughing, dancing, joking, chee-hoo'ing…amazing and that made me so thankful for the program."

"I couldn't help but wonder how many lives were altered in some small way now, and how the overall trajectory of their lives will be drastically different because of the time and effort from the YIP Staff and volunteers spent with them one on one."

Another parent commented:

"This program taught my daughter to dream big and set specific goals. Her goal at the beginning of summer was to make her high school basketball team in 3 years. Now her goal is to make the varsity team her Freshmen Year, and beyond that, to play college basketball. It is one thing to watch the Rainbow Wahine on TV, it's another to see and interact with them in real life. Also encouraging was seeing local girls on the team. It makes the dream one step more realistic. My husband and I did not grow up in military families so after high school the only options we thought to offer were college or work. This program has opened her eyes to a possible career in the military."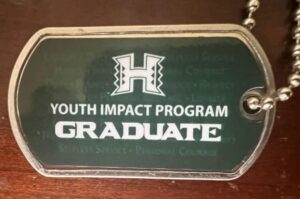 Graduates of the first Hawaii YIP for Girls program received memento with YIP Ethos and seven values
Results from a survey of all 2022 Hawaii YIP for Girls participants revealed the program helped increase knowledge, understanding and ability to be a better person: 
Youth participant comments:
"Everyone was supportive and made me feel good about myself."
"I learned there are a bunch of powerful women in my community"
"All people here are great, and they have the best attitude and I have been feeding off of that." 
"I learned new ways to think"
"I learned how to create smart goals, and this will help me succeed."
'It helps me to be a better person." Made me learn a positive mindset, I learned definitions and life long values" I am going to live and breathe them."
"It showed me that I could speak up for myself and other girls."
"When people say I can't do something, I will show them a girl can do anything! I will respect everyone!!"
"I will try to be like the players of the Rainbow Wahine when I grow up!"
" I will apply this to my life by using what I learned and sharing it with others." I will remember to not give up and be loyal to my team always."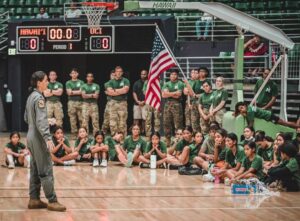 YIP Graduation Keynote speaker, Lieutenant Colonel BJ Itoman, former All-WAC Rainbow Wahine Point Guard
and Title IX beneficiary, currently C-17 Globemaster pilot in the Hawaii National Guard
and first female Squadron Commander is epitome of role model for Hawaii YIP for Girls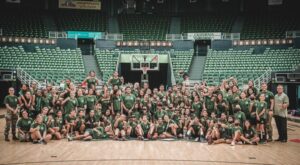 Hawaii Youth Impact Program for Girls Final Day Competition and Graduation
To make this historic feat happen, it took the commitment and shared purpose of the entire Hawaii 'Hui' community from State Legislature Senate President Ron Kouchi, Honolulu Mayor Rick Blangiardi, University of Hawaii President David Lassner and Athletic Director David Matlin. The YIP National Director Trey Johnson provided exceptional leadership for this historic first Girls program with extraordinary support from dedicated YIP Board members Sharon Brown, Anthony Spadaro and title sponsor Roy Yamaguchi.

Rainbow Wahine Basketball Head Coach Laura Beeman proudly took the challenge to host the Nation's first YIP for Girls, providing her Big West Champion staff and 16 Student Athletes as inspirational role models. Our STEM based academics were led by dynamic, engaging DOE teachers, complemented by nine special guest speakers and role models. The life skills, character and leadership development were provided by 26 of America's finest military mentors from US Army Pacific represented by 8th Theater Sustainment Command, 94th Army Air and Missile Defense Command; Marine Corps Hawaii represented by Combat Logistics Battalion 3; and the University of Hawaii Army ROTC Warrior Battalion. Youth participant to Mentor ratio was ideal for life changing engagement at 2 to 1!

Our generous supporters provided an amazing degree of donations led by title sponsors First Hawaiian Bank and Roy Yamaguchi, responsible for providing over 4000 meals from over 20 restaurants, round trip transportation for every Girl by Roberts Hawaii, backpacks, water flasks, and school supplies provided by Marcus Motive8 Foundation, Office Depot and many other devoted Believers in our YIP mission. We could not do it without you! Thank you for making Dreams come true!

To access Hawaii news features highlighting this historic program, see links below:

Wahine basketball partners with Youth Impact Program to introduce camp for girls (hawaiinewsnow.com)

Wahine basketball team wraps up first 'Youth Impact Program' camp for girls (hawaiinewsnow.com)

Hawaii Youth Impact program launches new girls program | Video | kitv.com

Applications still open for nation's first all-girl Youth Impact Program at University of Hawaii | Local | kitv.com
Be The Dream! Give the Dream!

Riki Ellison
Founder and Chairman 
Youth Impact Program
515 King Street, Suite 330
Alexandria, VA 22314
Permanently Impacting Our Nation's At-Risk, Inner-City Youth