Skip to Content
Day 1: University of Michigan Youth Impact Program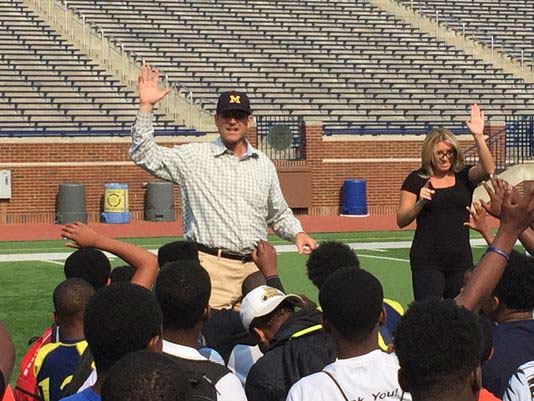 Day 1: University of Michigan Youth Impact Program July 7, 2015
Dear Dream Makers, Friends, and Supporters,
Michigan Head Coach Jim Harbaugh woke up at 4:30 am to meet 58 of our "at-risk" boys in the inner city of Detroit, got on their school bus with them and rode to Ann Arbor to open the first day of the Michigan Youth Impact Program. We had two buses from Detroit and a total of 103 "at-risk" boys which Coach Harbaugh brought together with 6 Marines, 4 public school teachers and his entire sophomore football class on the 50-yard line in the Big House to start up the day.
"Who has it better than us? NOBODY!" he said in his pep talk to drive the importance of the program and motivate the boys to take something away and get better from this experience. (Watch the video here)
The program fully engaged with Wesley Ellison leading the team, putting them all in for
our timed Mathematics and untimed English comprehension academic pre-testing both with Marines, football players and teachers circulating. What was very special was that each of the young boys had a name tag, a uniform and a varsity Michigan locker inside the team locker room at the Big House that they will be using every day. The excitement was contagious as they turned from street clothes coming from over 20 different schools in Detroit to one team, with one uniform on the field of Michigan Football. The boys loved it, after lunch and an inspirational real-time talk by each of the Marines, they toured the University of Michigan campus and athletic facilities.
It was a great day to start our program.
Here is the article from the Detroit Free Press, Jim Harbaugh's tweet, and a few pictures from our program on our website.
If you have not made your contribution to the Youth Impact Program yet, please consider making it today! We need you on our team now more than ever!
www.youthimpactprogram.org/donate
Permanently Impacting Our Nation's At-Risk, Inner-City Youth