Skip to Content
Aloha!
Yesterday we announced our first-ever Hawaii Youth Impact Program at our Press Conference hosted by Chef Roy Yamaguchi with the full support of the local community and the University of Hawaii.
From HONOLULU (HawaiiNewsNow) – "Why am I not doing this here and giving back to my bloodline and my Polynesian heritage and to Hawaii," Ellison questioned as he was inducted at the Polynesian Cultural Center in January.
"We've hit a bunch of corners of the community to make this thing happen," said UH head football coach Nick Rolovich. "So we know it's going to be great."
For current Rainbow Warriors players like Dru Brown and John Ursua, it wasn't so long ago that they were in middle school with role models of their own. Now they'll have a chance to impact kids in need.
"We're not really close to any NFL and NBA teams or anything like that, but we always fell back on the UH football team or basketball, whatever sport you may enjoy," said Ursua, a Hawaii island native. "It's just a great opportunity to do that."
"I think the platform that all of us players have been given is not just for no reason, it's to give back," said quarterback Dru Brown. "If we're not doing that it's almost a waste of time. We were blessed enough to have people to look up to. It's our job to be the role models this time around." Read Full Post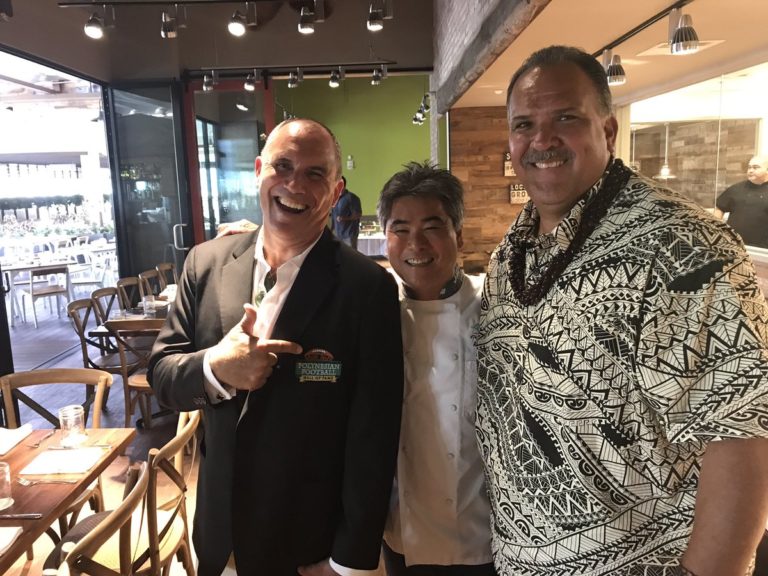 Thank you to Roy Yamaguchi for his leadership and hosting the Press Conference at his restaurant the Eating House 1849. Thank you to all that made this event possible: Senator Ron Kouchi, Representative James Tokioka, Bernard Carvalho (Kauai Mayor), Mufi Hannemann (Former Mayor of Honolulu), Trey Johnson (U.S. Army), Mike Buck (ESPN Radio host of Mike Buck Show AM690), Head Coach, Nick Rolovich and his coaching staff with Jason Cvercko (Hawaii YIP Program Director), and UH Student Athletes John Ursa and Dru Brown.
Mahalo!
Permanently Impacting Our Nation's At-Risk, Inner-City Youth