Skip to Content
2022 University of Hawaii YIP for Males Registration Is Closed as of May 26, 2022.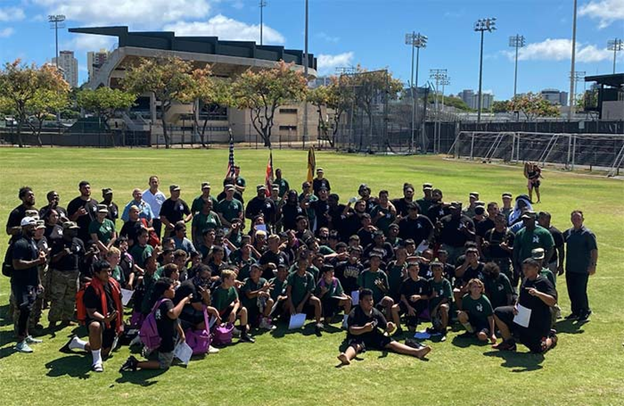 The 2022 University of Hawaii Youth Impact Program Registration for Youth Males Is Closed as of May 26, 2022.
Any Registrations after May 26 2022 will not be processed.
Thank you for visiting our website and for your interest in the 2022 Youth Impact Program.

We look forward to another successful program in 2022 as well as your participation in our 2023 event.
LOCATION:
University of Hawaii, Manoa
PROGRAM DATES:
June 13-24, 2022 (Mon-Fri)
PROGRAM DIRECTOR: Matt Chon
MALE YOUTH PROGRAM
GRADES 6 – 8   (AS OF FALL 2022)
This program is a two-week LEADERSHIP DEVELOPMENT PROGRAM hosted by the University of Hawaii along with the Youth Impact Program.   This program combines the values and discipline of the U.S. Armed Forces with the coaching and teambuilding aspects of football with the Student-Athletes.  Coaches and volunteers from the Armed Forces instill strong lessons in teamwork and work ethic.
Students will learn valuable:
CHARACTER DEVELOPMENT SKILLS &
ENHANCEMENT OF ACADEMIC ABILITIES
The game of football serves as a creative learning tool for math and language arts in a positive, fun learning environment. The program provides academic supplies, clothing, two meals a day, equipment and the strong work ethic of the University of Hawaii and our military volunteers.
For more information, contact Program Director Matt Chon or uhwarriorsfootball@gmail.com